AND FLOWERS DIE
(Och blomstren dö)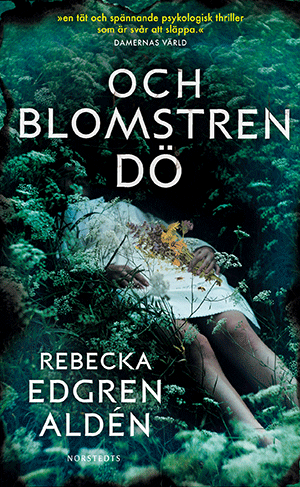 When Gloria was in her teens, she and her mother lived for a while in a women's collective on the island, not far away from where the slightly older Adam stayed with his family during the summers. Gloria is both nervous and excited to revisit a place she hasn't seen in over 20 years.
The first days on the island are amazingly beautiful, summery and warm, but also strained. Adam's older brother Karl and his wife Maria have completely different views on gender roles and equality than Gloria, and they enjoy provoking her.
Memories and events that she hasn't thought about in many years start to come back. And at nights, Jimmy, a teenager who drove himself to death on a moped all those years ago, haunts her dreams. The deserted collective villa calls to her with its hollow windows. One day, during a walk, she stumbles on a macabre find: the body of a dead woman, with a veil covering her face and a fading bouquet of flowers in her hands.
The discovery of the body marks the start of the storm to come. And soon Gloria is faced with the hard choice to either protect the prospect of happiness and family, or to call out the truth about the past she's desperately chased for so long.
And Flowers Die is a rock-solid thriller about secrets, loyalties and choices between life and death.
309 pages
Rights

Germany: Btb/Random House
The Netherlands, Cargo/Bezige Bij
Iceland: N29/Drápa
Sweden: Norstedts
REVIEWS
"A solid and captivating psychological thriller which is hard to put down."
Damernas Värld / SWE
"Well-written intrigue."
Dagens Nyheter / SWE
"To say that someone after writing two thrillers is well established might be slightly exaggerated, but that's the sense you get from reading Rebecka Edgren Aldén. Rating: 4/5."
Nisse Scherman (Member of the Swedish Crime Writers' Academy) / SWE
"And Flowers Die is amazingly good. So good that I wished for a sequel. Edgren Aldén delicately weaves together darkness with social criticism, deceit and lies. The must of the autumn! Rating: 5/5."
Annas deckartips / SWE
"In 2015 Edgren Aldén made her debut with the excellent The Eighth Deadly Sin, and the sequel is just as good, but in a completely different setting. The island in the archipelago is so well described that you can actually smell the Swedish summer, and the characters are many-sided. Old sins bubble up to the surface and we are invited to a nice plot twist towards the end. Rating: 4/5."
Läsa & Lyssna / SWE
"This is a terribly exciting book; psychological suspense at its best!"
Böcker – ett livselixir / SWE
"A breath-taking read, I couldn't put the book down and had to read it at one go. The atmosphere is condensed and the intrigue builds up the tension in a clever and almost claustrophobic way."
Hyllan / SWE
"I like the creepy, unpleasant feeling and the fact that the story takes place in a limited place such as an island. You often talk about the difficult second book, but for Rebecka Edgren Aldén it does not seem difficult at all. Rating: 4/5."
Enligt O / SWE
"And Flowers Die is a well-written, nail-bitingly exciting psychological thriller. Rebecka Edgren Aldén is very good at creating a strong psychological atmosphere, which means that as a reader, I am always on my toes. /… /There is no doubt that I want to read more from Rebecka Edgren Aldén and most preferably I want to read more in this genre – the psychological thriller – where she is one of the most vigorous Swedish authors. Rating: 4/5."
Lottens bokblogg / SWE
"Rebecka Edgren Aldén writes in my opinion first-class contemporary texts about relationships, it would be exciting if the next novel doesn't contain crime. Maybe a novel about Gloria's continued life? I hope so!"
Och dagarna går / SWE