Children of The Phoenix 1 – The Eye of the Storm
(Imperiets arvingar 1 – Bortförda)
Oskar Källner & Karl Johnsson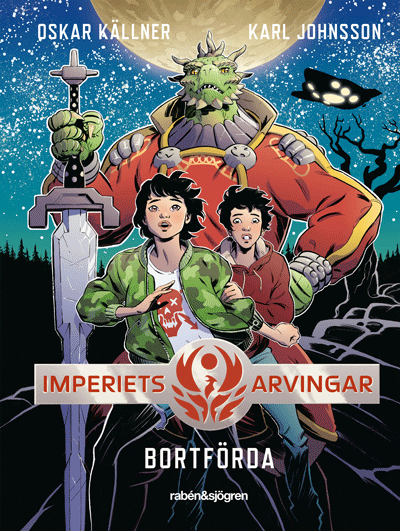 Alice and Elias live with their parents in the suburbs. One evening their mom disappears, and their dad is arrested by the police, suspected of being involved.
Alice and Elias decide to save their parents and head for the Lunsen forest to search for mom. But they find something completely different. In the same forest, the azkalor Brock, captain of spaceship The Phoenix, searches for a long-lost crewman. Brock and the siblings will soon realize that they have a common enemy …
The Eye of the Storm is the first part of the science-fiction series Children of the Phoenix. It is a colorful universe teeming with intelligent species, all with their own distinctive characteristics, culture, biology and technology. A galaxy with both awe-inspiring miracles and shadowy mysteries in fast paced adventures into the unknown. The story of Alice's and Elias's journey is an epic space tale that will take your breath away.
The chapters are short and easy to read with a lot of dialogue, and the book is filled with cool four-color images including a foldable illustration of the spaceship The Phoenix.
176 pages
Rights
Denmark: Gyldendal
The Faroe Islands: Bókadeildin Føroya Læraraferlags
Finland: Otava
Germany: Atrium Kinderbuch
Lithuania: Alma Littera
Norway: Gyldendal
Sweden: Rabén & Sjögren
USA: Mad Cave Studios
REVIEWS
"The fact that the author Oskar Källner claims to have been inspired by the Pax books makes me both proud and happy. […] It includes short, fast-paced chapters that often end with a cliffhanger. On some spreads, beautiful illustrations appear in full-color prints by illustrator Karl Johnsson. At the end of the book is a cool fold-out with an illustration of a spaceship with a related fact box (love fact boxes!). And on the last page there is a wisdom quote that reads: "In the eye of the storm the silence awaits". This bodes well, folks! Go! Go!"
Ingela Korsell, Mariefreds tidning / SWE
"This is just the beginning. It is building up to something huge and incredible. […] I think there are quite a few science fiction nerds out there a lot older than twelve, thirteen, that will read this with GREAT glee, too."
Paula Högström, children/YA-librarian / SWE
"Two personal favorites have docked their spaceships, and the result – Children of the Phoenix 1 & 2 – is nothing less than amazing young adult novels. The fact that we're served with two books in the same spring is a wonderful luxury, and I already can't wait for part three this fall. […] this is a must-read for every child in middle grade-age with the tiniest interest in books, space, adventure, mysteries and aliens. […] now, I'd just like to jump into a wormhole and appear right at the release party of the third book."
Barrikaden / SWE
"These books have been truly joyful to read. Both me and the son have looked forward to reading every night. […] Us readers who don't have any experience on how to write books won't notice all the details, but it's still clear to me that Källner is a real professional at what he does. The Children of the Phoenix-books are really, really well-written. […] both genders are represented with non-stereotypical and varying qualities, without it being predictable. Together with Johnsson's illustrations it gets even better […] Johnsson's illustrations are overall incredibly fascinating and increases the wow-feeling you get from the book. […] This is some really, really good books that fit perfectly for most children! Even I as a parent can't wait for the next book in the series. 5/5"
Barnboksfamiljen, blog / SWE
"The Eye of the Storm goes off with full speed right from the very beginning. There's a pace in the story and it's a real page turner. Even though the series targets the ages nine to twelve isn't exclusively for that age, anyone who likes a sci-fi adventure could get caught with the story and the amazing pictures. Karl Johnsson's illustrations go perfectly with Oskar Källner's story."
Marias Bokhylla, blog / SWE
"The Eye of the Storm suits adventurous and imaginative nine to twelve-year-olds, and thanks to the short chapters and the explosive illustrations it could entice both those who read a lot, and those who read less."
Sofies Bokblogg, blog / SWE
"This is a really cool adventure for readers between the age of nine and twelve, but I would say it suits everyone who likes spaceships and intergalactic thrill! […] Every chapter contains a twist so that you just have to turn the page and read another one."
Lagomlycklig, blog / SWE
"This book wasn't in my planned reading at all. But I read so many positive reviews that I had to bring it with me over Easter! I had gotten so curious. […] I really liked it! It's energetic and has incredible illustrations. […] The chapters are short, and it really has this high pace which I think will get the younger readers caught."
Vargnatts bokhylla, blog / SWE
"I just read this with my daughter, and I have to say it is insanely good.  As an old sci-fi nerd this epic space-saga is the perfect bridge to share this interest with my daughter. It's well-written, down to earth (hehe), emotional and with good action. We read it in just a few days and we've just started book 2."
Hammarby sjostad, blog / SWE
"I devoured this book during just a few hours one afternoon. It was just so good. […] There was a nice flow and I was drawn into it and thought it was really exciting. I definitely wanted to know what was going to happen. A real page-turner, even for an adult."
Läsfotöljen, blog / SWE