Children of the Phoenix 5 - The Prison Break (Imperiets arvingar 5 - Fängelseflykten)
Oskar Källner & Karl Johnsson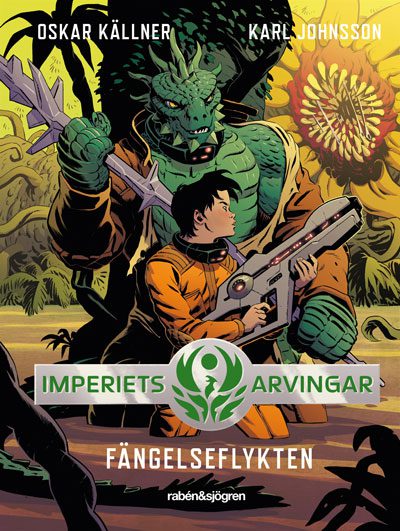 Alice and Elias' journey through the galaxy continues. Brock has been abducted by the Azkalors and the crew of The Eye is searching anxiously for him. They are also concerned about Alice who, since her encounter with the Mnemonic Knights, has been hearing voices and seeing things that don't exist.
In a savage jungle on the prison planet Feroz II, Brock must brave monsters and killbots in a hunt for ancient artifacts. Kapa has a plan to save him, but will the crew succeed?
The Prison Break is the fifth part of the science fiction series Children of the Phoenix. A sizzling space epic filled with spectacular marvels and shadowy mysteries, blistering-pace escapades, and terrifying encounters with the unknown. The story of Alice and Elias' journey through space is simply magnificent.
271 pages
Rights
Finland: Otava
Norway: Gyldendal
Sweden: Rabén & Sjögren
USA: Mad Cave Studios
REVIEWS
"colorful, creative and detailed illustrations […] fast-paced, imaginative, gripping and interesting reading. Rating 5/5"
BTJ / SWE
"Källner excels with a fantastic story that made our jaws drop towards the end of this book. It is clear that Källner has an extremely well-thought-out plan with the series. Small details that were introduced in previous books now fall into place, but just as much is still open and we wonder how everything should go, how everything is connected. We want to read the next part NOW! The series is consistently full of fantastic color illustrations, and it is enough to look at the covers to get a craving for reading. That desire to read stays because Johnsson's illustrations and Källner's text creates a fantastic whole. I also appreciate that Källner has included poetry and songs in the book that deepen and broaden the different cultures that the different characters come from. A favorite series with us!
Rating 5/5"
Barnboksfamiljen (biggest bookstagram in Sweden with over 26 000 followers) / SWE
"It's exciting, fantastic illustrations, smart gadgets, reasonable surprises, imaginative "aliens", a feeling that the author has a keen eye for technology and astronomy and a varied gallery of characters.
Rating 5/5"
Barrikaden / SWE
"Thrilling, fun and great illustrated!
Rating 5/5"
Jennies boklista / SWE
"a very exciting and well-made science fiction adventure with fantastic illustrations by Karl Jonsson.
Rating 9/10"
Gnestadandys bokhylla / SWE
"Finally the next part in the exciting series Children of the Phoenix. It is full speed from the first to the last chapter. The book ends way too fast. Tension at a really high level. All incredible creatures come to life through the amazing illustrations."
NP Boktips / SWE
"You already know what I think of Children of the Phoenix. Addictive. Read, read, read!"
Read Loud / SWE
"Children of the Phoenix continue to impress and hold an extremely high class. A series for all science fiction lovers regardless of age.
Rating 5/5"
Izabelle on Goodreads
"I long so much for next book.
Rating 5/5"
Elina on Goodreads