CHILDREN OF THE PHOENIX 4 – THE ENGRAM KIST
(IMPERIETS ARVINGAR 4 – MINNESSKRINET)
Oskar Källner & Karl Johnsson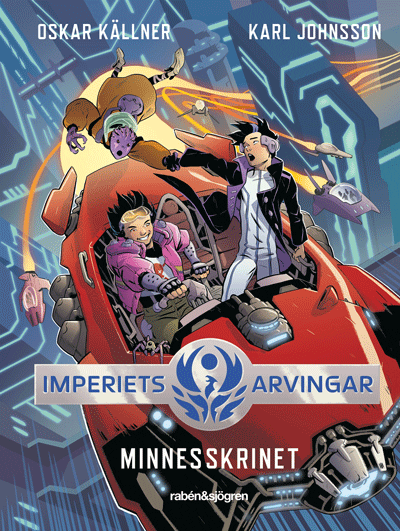 Alice and Elias continue their journey aboard spaceship The Phoenix. They have arrived at the empire planet Tenia and the crew need money to repair the ship.
Syndra receives a mission from a relative to retrieve a stolen engram kist. But the mission won't be as easy as the crew thinks. They are soon caught up in a life or death struggle – with the future of the whole empire at stake.
The Engram Kist is the fourth book in the sci-fi series Children of the Phoenix. A sizzling space epic filled with spectacular marvels and shadowy mysteries, blistering-pace escapades, and terrifying encounters with the unknown. The story of Alice and Elias' journey through space is simply magnificent.
Rights
Denmark: Gyldendal
The Faroe Islands: Bókadeildin Føroya Læraraferlags
Finland: Otava
Norway: Gyldendal
Sweden: Rabén & Sjögren
USA: Mad Cave Studios
REVIEWS
"Källner and Johnsson once again deliver high-quality children's literature that takes us on an immersive space adventure. […] This is truly an incredibly well-crafted series that is loved as much by me as my ten-year-old son. Children of the Phoenix evoke true reading pleasure! When I told my son that the fourth book had arrived, he exclaimed, "Yes! Finally!" with a big smile and he has not been disappointed. In previous parts, Källner has made a perfect balance with how quickly he expands the number of characters and worlds. In this book, we also get to know the different cultures of the galaxy further. […] But it's not only an astonishing space adventure, the series also contains deeper elements. […] It's norm-creative without ever feeling pasted or exaggerated. The series is also throughout full of fantastic illustrations in color that give a true "WOW!"-feeling. You only need to lift up one of the books and look at the covers to get a craving for reading. That feeling lasts. Because Johnson's illustrations is WOW and creates a fantastic whole with Källner's text.
5 of 5 ⭐️"
Barnboksfamiljen, (biggest bookstagram with over 22 000 followers) / SWE
"The colorful and detailed illustrations are dizzying and enhance the reading […] The characters are multidimensional and clear. […] It is well written, interesting and a very exciting read. Rating 5/5"
BTJ / SWE
"Haven't you read this series yet? You are lucky to have it in front of you, I'm jealous … How many exciting things is even possible to fit into one book? Oskar Källner does it masterfully. We are thrown from one event to another, the next more dramatic than the previous, but at the same time everything is connected and there are no loose threads. […] Karl Johnsson's illustrations are detailed and perfect for this. Everything feels so alive when experiencing the story through Johnsson's illustrations. They also make you feel that you get to know the characters and what they go through even better.
Rating: 5 of 5"
Marias bokhylla / SWE
"I love this series. It's as simple as that. […] Incredibly exciting and with cliffhangers that always make me long for the next part. The illustrations are dripping with color and action!
Rating: 5 of 5"
Helsingborgs Bibliotek / SWE
"I really love that you let your imagination flow. There is like no stop, which is wonderful. If you haven't read Children of the Phoenix yet you should start with book 1 today already, you will not be disappointed. Suitable for old and young! I myself look forward to the next part of the adventure."
npboktips / SWE
"Exctiing, fast-paced and entertaining.
Rating 5 of 5"
Jenniesboklista / SWE
"It was so fun to read more about Alice and Elias and to join them on another exciting adventure that included encounters with new creatures, action and much more. The plot offered so many unexpected twists and things happened all the time which made me just want to keep reading.
Rating 4 of 5"
Bokugglor / SWE
"Källner's laser-sharp pencil in combination with Johnsson's magical illustrations forms a fantastic result.
Rating 5 of 5"
Barrikaden / SWE