TICK TICK BOOM (TICK TICK BOOM)
Lotta Fritzdorf & Johan Rosenlind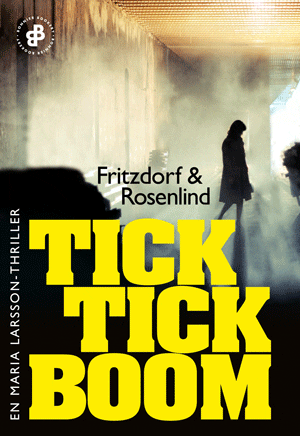 Stockholm is icy and cold. It's November 2017 and christmas shopping is just about to take off. Meanwhile a ruthless perpetrator is preparing several mass murder attacks. He will show no mercy and if he is to go under, he is prepared to take everyone with him.
The experienced Crime-Inspector Maria Larsson and her team are up for some extraordinary challenges in the hunt of a murderer who oddly enough seems to deliberately leave trails, almost as if he wants to be found.
After a fatal attack where the murderer himself appears to have died, Larsson and her team realize that the clock is still ticking for yet another massive act of destruction. Will they be in time to prevent it? The clock is ticking …
Tick Tick Boom is a drama thriller that raises issues about deadly male cultures and how society fails to defend innocent from what can be seen as missiles threatening to explode amongst us at any time.
13 hours, 10 episodes
Rights
Sweden: Bonnier Bookery
Film rights
REVIEWS
"This is a real nail biter. The story is believable and scary and truly feels as if it could happen in reality. I think you get a nice description of the characters and I get really attached to Maria Larsson. I would love to read / hear more about her and the other police officers. 5/5"
hannasbokhorna, blog / SWE
"Johan Rosenlind and Lotta Fritzdorf write one very (unfortunately) credible story. The book feels like made for film and I "could see" it when I listened to it. Good drive in the plot."
Bokpilen, blog / SWE
"How I have waited. It seemed as I had just started episode 1 and suddenliy I hade listened all 10. A very well written book, which includes everything I like in a thriller. Murder, happiness, grief and excitement. There will be more books with Maria Larsson, right?"
bokannicka, blog / SWE
"What a great series. It was really thrilling. The charcters were wonderful, but I liked Maria Larsson the best. I would love more series like this."
mariiajohanssoon, blog / SWE