A STORM IS COMING
(STORMSKÖRD)
Mattias Leivinger & Johannes Pinter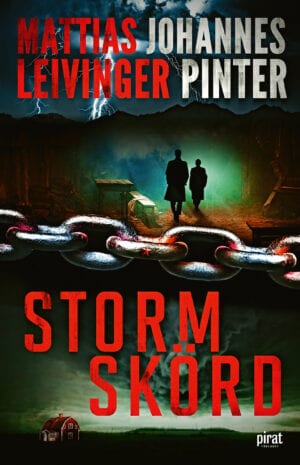 In a hospital bed, police inspector Iris Riverdal is lying in deep unconsciousness. A bullet is buried inside her cranial bone, yet she recovers surprisingly well.
While waiting for her to wake up, her colleagues at the Stockholm police are desperatly seeking the answer to who the mysterious shooter is. He who was behind the murder wave in Stockholm and finally died in a shot out in Swedenborgskyrkan. At the same time, two men arrive to Stockholm to complete the strange assignment. With them they have a deadly weapon that kills both body and soul. The survivors gather for the final battle, a fight that defines their freedom or destruction.
They all have their special interests in Iris. But who is friend and who is the enemy in the game where she suddenly became the central player?
A Storm is Coming is the stand-alone sequel to the acclaimed tension novel Marked by Darkness.
464 pages
Rights
Czech Republic: Knihy Dobrovský/Omega
Germany: Arctis
Sweden: Piratförlaget
REVIEWS
"Smoothly written page turner which is just waiting to be filmed into a watch-friendly combination of Jordskott and The Bridge."
Borås Tidning / SWE
"An intriguing suspense novel which begins in Formula 1 speed and then picks up in pace and is spiced with parapsychology and almost overwhelming forces."
Expressen / SWE
"A dramatic, suspenseful well written book impossible to put down. Scary magical realism with its roots in history."
Kapprakt / SWE
"I am hooked by the suspense and the energy in the storytelling. With this second book the authors prepare for a powerful and purely cinematic ending."
Just nu, just här, blog / SWE