MARKED BY DARKNESS
(DE MÖRKERMÄRKTA)
Mattias Leivinger & Johannes Pinter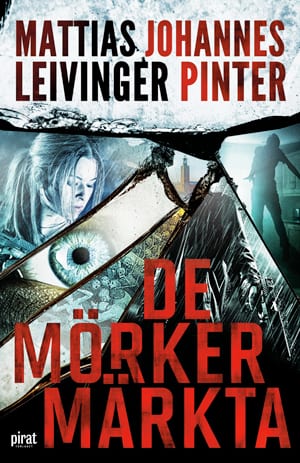 It is a cold spring in Stockholm, and a series of murders take place that at first do not seem to have any connection. Detective Iris Riverdal is young, talented and very strongheaded and devote her life to her work. She gets right into the action when she answers a call about domestic violence. In the apartement she finds a dead woman and a strange killer who somehow hypnotizes her and disappears from the crime scene. The fact that Iris has met the killer and not caught him irritates her enormously. That's just her!
More dead bodies surface, Iris and her colleagues are puzzled and disturbed by the horrifying murders which seem to have occult signatures. Alongside the police investigation a number of human destinies unravel – people gifted with strange abilities that are all linked to a dim past. They are stained by darkness.
The deeper Iris is pulled into the cases, the more she perceives that there is a supernatural dimension overshadowing everyday Swedish life. Moreover, this dimension is clearly bonded with her own life. Iris realizes that the darkness that has always been a secret part of herself has frightening abilities that are about to waken.
400 pages
Rights
Czech Republic: Knihy Dobrovský/Omega
Germany: Arctis
Sweden: Piratförlaget
REVIEWS
"The novel has a stylish and appealing language, vivid descriptions and well-drawn characters. The plot is original and cleverly implemented. A very promising start of the trilogy."
BTJ / SWE
"A plot based on supernatural phenomenons. There is a special sense and feeling in the story that makes it difficult to let go of."
Dagens Nyheter / SWE
"The perfect Easter reading for everyone that likes mystery, suspense and sudden death."
Aftonbladet / SWE
"The super natural elements are skilfully woven into the detective story and forms an irresistible whole. The mystery of the past and the question about who the killer is and why his is doing what he is doing, becomes unbearably exciting and makes the book impossible to put down."
Lacrimamens blog / SWE
"The novel has stylish and appealing language, vivid descriptions and well-drawn characters. The plot is original and cleverly implemented. A very promising start of the trilogy."
BTJ / SWE
"I really like the mix of crime novel and supernatural, the police novel and horror. The book feels contemporary and innovative, and I will of course read the two forthcoming books in the planned series."
Bims blog / SWE