LAWLESS COUNTRY (Laglöst land)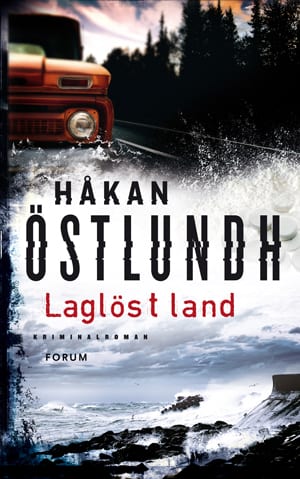 Håkan Östlundh reading from Lawless Country (Swedish)
The perfect crime. That's what Viktor and Rafael Engstrom was aiming for and very soon they have achieved what they wanted, two million in an account in a country far away where no one asks any questions. It's time to leave Sweden and Gotland forever. And Viktor's great love Nadja is in on the trip. Everything seems to go according to plan.
But someone has tracked them down. Mange, who smuggled the Estonian amphetamine they sold online is found dead. The dream of a comfortable life under a hot sun turns into a struggle for life in a cold and inhospitable November Gotland.
Fredrik Broman and his colleagues at the Visby police are called in to solve the murder. Traces of the ruthless killer take shape. Yet the police seem to always be one step behind.
While Fredrik Broman wrestles with the difficult investigation, he is forced to make a difficult career choice and to make an even harder decision at home: should the family stay on Gotland or not?
With Lawless Country Håkan Östlundh once again creates a creepy and intriguing crime novel. This time it's about the desire to break away and start a new life – whatever the price might be.
463 pages
Rights sold
Denmark: Lindhardt & Ringhof
Israel: Dani Books
The Netherlands: Lantaarn Publishers, Lind & Co (audio)
Norway: Cappelen Damm
Sweden: Forum
REVIEWS
"One of Håkan Östlundh's best books, and one of this year's most credible detective stories. It's so thrilling you can't stop reading."
Dagens Nyheter / SWE
"My favourite! An exciting, well-written story that actually made ​​me feel affection for the young, clumsy criminals who are desperately trying to stay one step ahead of the police. I should characterize the book with one word it's definitely credibility."
Aftonbladet / SWE
"Most skilfully Håkan Östlundh shows how his characters are running, like scared rats in their own labyrinth."
Dagens Nyheter / SWE
"Håkan Östlundh has written an unusually dramatic story about disappointments and dark secrets. In his second Broman story, he masterfully combines literary quality, high voltage and fine human portraits."
Berner Bär / CH
"Lawless country – the sixth title in the series about detective Fredrik Broman and others at the police in Visby – is Håkan Östlundh's best crime novel. Actually, has someone ever written better Gotland crime? It is a deeply moral story about what can happen if you take the leap from a gray life to professional criminality. At the same time it's full of solidarity with the people that society has relegated to a – lawless country."
Kristianstadsbladet / SWE
"Perhaps Östlundh's sharpest work so far, a murder story bleak and relentless as a rauk in a November rain."
Femina / SWE
"Håkan Östlundh has developed into a terrific talented Swedish crime writer and Lawless Country is by far the best book he has written so far."
DAST Magazine / SWE
"Lawless country is a well written crime novel with a clear theme: young men's allure for big money and their naive faith in their own ability to deal with the criminal world."
Kulturdelen / SWE
"An interesting and good depictured person grid stands forward in the novel."
Skaraborg Radio / SWE