The Viper (Blot)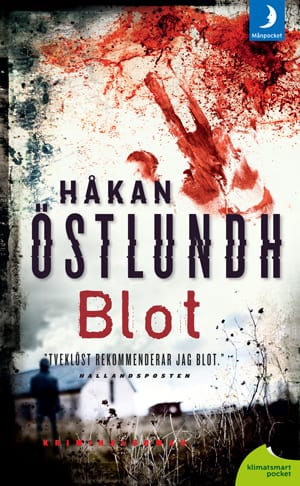 Östlundh has created an unusual novel from the classical detective genre, holding the reader in suspense from first page to last.
A medical helicopter is flying over the Baltic Sea carrying policeman Fredrik Broman. Broman has a serious head wound and no one knows whether he is going to make it. Three weeks earlier, two corpses have been found, murdered, on a farm near Levide. One woman, killed by a blow to the head, and one man, cut to pieces so severely that he is unrecognizable. At the time they were found on the living room's bloody wooden parquet floor, they'd already been dead for two days. The owner of the property, Arvid Traneus, had just returned home from Japan after many years consulting for a large corporation. At first, the police assume that he's the murdered man, since the woman at the corpse's side has been identified as Arvid Traneus' wife.
However, the body proves to be that of Arvid's cousin, and the investigation has to switch gears, while the suspects seem to have disappeared without a trace.
Rights sold

The Czech Republic: Baronet a.s.
Denmark: Forlaget Aronsen
France: Prisma Noir
Germany: Piper Verlag
Israel: Dani Books
Italy: Fazi Editore
The Netherlands: Lantaarn Publishers, Lind & Co (audio)
Norway: Cappelen Damm
Sweden: Ordfront Förlag, Ordfront Ljud
Turkey: Marti
USA: St. Martin's Press
REVIEWS
"With The Viper by Håkan Östlundh I fell in love with Swedish thrillers. The novel has a steady pace, you will not get bored for a second. The multitude of characters and details make a hectic investigation. And yet, the writer leaves nothing to chance, he hides nothing, neither the murders nor the sex scenes. And it makes a living and realistic story. From the first page, you cannot let go of the book.
En tarteur de Culture / FR
"Östlundh's U.S. debut, an engrossing thriller, upholds the fine Scandinavian literary tradition of using crime to peek into deep-rooted social malaises. The author delivers a thoughtful meditation on the nature of evil and what makes a person culpable."
Publishers Weekly / US
"Combining the viewpoints of police and local residents gives Östlundh's first crime novel to appear in English an extra level of interest. This latest Swedish import is sure to please fans of Åsa Larsson and Johan Theorin."
Booklist / US
"The excitement builds up in a construction of many layers by the short chapters, and the author makes the events build up to a climax. It sounds complicated and in the beginning it is, but everything in the story plays a role and have a meaning. Every turn of the story, every surprising twist and all the new facts leads to a new angle. The Scandinavian style I have characterized by tight and beautiful pictures. Östlundh is a master of this style."
CrimeZone / NL
"… the people in this crime novel are more lively described than what we are used to. They seem in a way more edgy and human than all the one dimensional characters we usually meet."
Politiken / SWE
"There is no question about the fact that the Swedes have captured the Nordic crime throne and Håkan Östlundh is definitely one of the most interesting authors in the genre. He knows his plot and his persons. His vivid treatment of the language is exceptional. He knows how to create a story in a way that makes it stirring from the start to the very end. The gripping family drama in The Viper reminds me of the American writer Joyce Carol Oates. The story is based on intrigue but Östlundh's sence of details makes the scenes extremely real. The Viper is a classic crime story but also depicts relations between people and contemporary society in an eminent way."
Helsingør Dagblad / DK
"The Viper … offers a thrilling family drama, is extraordinary well written, shows with emphasis that this author after four books deserves to be acknowledged with respect, deserves to be taken seriously, and deserves much credit and many readers."
Tidningen VI / SWE
"Until now, Håkan Östlund has fallen behind in all the commotion around the trend to write crime that takes place on Gotland. But here he is definitely the King among all crime novel Queens."
Gotlands Allehanda / SWE
"If Östlundh continues like this, we have something to look forward to."
Sydsvenska Dagbladet / SWE
"Östlundh has let his characters grow. Already in book number two, Broman and the others had become real people for the reader to recognize oneself in. And now in the fourth book they become, like in any really good book, part of the reader's circle of friends. /…/ Frankly, Håkan Östlundh's The Viper touches what a contemporary crime novel has to do: present moral issues in a classic murder intrigue."
Nerikes Allehanda / SWE
"A classic crime story with elements of our time and the relations between people created by our time. Of all the crime novelists using Gotland as settings for their books, Håkan Östlundh is the sharpest, both when it comes to describing our time age and building an intrigue that stays exciting through out the entire book. The Viper doesn't change this comparison, if anything he increases his lead towards the competitors."
Gotlands Tidningar / SWE