THE AVENGER (HEVNEREN)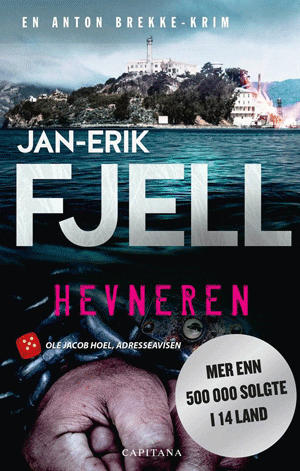 Anton Brekke #3
In The Avenger, Jan-Erik Fjell is at his most playful, doing what he enjoys the most: mixing Americana with Norwegian small town life, and the result is chilling.
Three stories weave together, catching a Fredrikstad couple in a deadly web: a Norwegian American incarcerated in Alcatraz in the 1960s; a group of young Norwegians going to a rock concert in 1990s San Francisco; and in present day Norway, a killer is stalking the now middle-aged San Francisco travellers, meticulously imitating a serial killer operating in the USA decades earlier.
Anton Brekke is the first on the scene when a woman is brutally murdered in Fredrikstad. But this time he is not heading the investigation. Getting arrested in a raid of an illegal gambling club was the last straw and Anton was demoted and transferred to the Order Police. He's told in no uncertain terms to stay away from the case.
Anton Brekke does not feel like complying, he has a serial killer to catch and a point to prove.
368 pages
Rights
Czech Republic: Omega/Knihy Dobrovský
Denmark: People's
Finland: Harper Collins Nordic
Germany: Goldmann
Norway: Bonnier Norsk
Sweden: Harper Collins Nordic
REVIEWS
"In by far his best book, Fjell has advanced even further as a writer of suspense… as the saying goes, you'll not want to put it down once you start … Fjell's story is so original and strong that the lonely, strong and proud Danny stays at the forefront of your mind long after the book is finished." ★★★★★
Adresseavisen / NO
"This could be one of the season's best crime novels. Jan-Erik Fjell takes a big step in the right direction."
Dagbladet / NO
"Jan-Erik Fjell's plots are exceptional, and the well-written scenes from the USA are up there with the best [crime writing] in Norden."
Natt og Dag / NO
"Fjell masters the difficult narrative mode to tell three parallel stories and wove them all together at the end, without the reader losing the threads."
Dast Magazine / SWE
"I think that so far The Avenger is my favourite book about Brekke. I liked both the present murder case as well as the story from Alcatraz. And the great fun is to try to figure out what's the connection."
A Bookaholic Swede / SWE
"Oh what I like this series about Norwegian police Anton Brekke!! I think it includes almost everything. Very interesting and exciting intrigues, fun and interesting characters as well as surprises and twist and turns, spiced with a lot of humor. Jan-Erik Fjell has really managed to get everything perfect … In my eyes, this series is among the best in the suspense genre right now."
Mysterierna / SWE
"I have liked the previous books, but this one took me by storm… A story where the threads are slowly interlaced to eventually form a thick rope. Brilliant!"
Boktok73 / SWE
"Thrilling, strong and entertaining!"
Jenniesboklista / SWE