THE FLESH-EATING TENTACLE TRAP
MONSTER MONSTER #1
(DEN KÖTTÄTANDE TENTAKELVÄXTEN)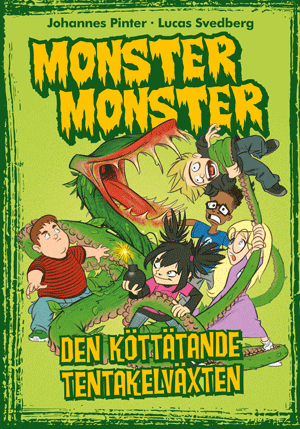 Tove, Charlie, Johanna, Musse and Oliver miss the class trip to Stockholm and have to spend a really boring school day with the really boring art teacher Engelbrekt.
While watching a film with him lightning strikes the school and into the film projector and travels further to everybody in the class room and they all pass out. When the children wake up they realize that their creative skills have become superpowers. Things that Tove draws can become real, Musse can change peoples temper with his paint, Charlie can change events with his videocamera and Johanna can make people do what she wants through her writing. But they realize something else  as well: a giant meat-eating plant shows up. And it seems very hungry, especially for children…
93 pages
BLURBS
"Amazing and exciting book series full of magic, action and super powers!"
Elias Våhlund – author of Handbook for Superheroes.
REVIEWS
"This new series, which will lead to two new books per year the next five years, it is about five children who, under certain circumstances discover that they have supernatural superpowers. It is very well depicted, with crisp black and white illustrations by Lucas Svedberg."
Bibliotekstjänst / SWE