TOUCHED (BERÖRINGEN)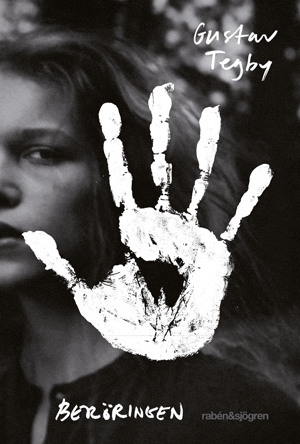 As soon as the door bell rings, I know that Dad will die today. I look up from the chat with a jerk. My look wanders across the table, searching for Dad's eyes. Buth is his face have somehow collapsed, there is a sadness and abandonment in his face that I have never seen before. Then he realizes that I look and he quickly gathers his facial features and manages a tired smile. But it is too late. I get it.It may just be the take out food delivery , he says low, though he knows as well as I do, that the food person we order from never rings the bell. Nobody rings on our doorbell. Never ever.
Sixteen-year-old Elin has been trapped with her dad in a one room apartment her entire life. Everything she knows about the outside world she has picked up through films and on internet. And from what she has seen  from the kitchen window and heard through the walls.
A normal life outside the apartment is impossible.
Because Elin was born with an incredible ability.
Or rather a curse.
Everyone she touches die.
At least if you believe what her father says.
401 pages
Rights
Czech Republic: Dobrovsky
Italy: Giunti
Sweden: Rabén & Sjögren
REVIEWS
"Tegby has written a really impressive and nerve-wracking chamber play, a low-key horror story about a kind of superhero awakening. […] The language is exemplarily tight with great pace in the effective dialogues and in the associative inner monologues. Awesome craftsmanship is what it is."
Dagens Nyheter / SWE
"A fear-some paranoia thriller in which the reader, and the protagonists of the book, are thrown between the terribly real and the psychologically supernatural. […] It's damn exciting!"
Smålandsposten / SWE
"Things keep happening, in an exciting pace. Touched is made to be unputdownable, to get carried away by. And it works, breathlessly I flip through page after page."
Göteborgsposten / SWE
"This is an exciting and beautifully portrayed story, with supernatural elements in its foundation, about changing lives, about questioning everything one has learned and finding out who you really are. The author is inspired by news stories about children who have been isolated by their parents, and he succeeds with the portrayal of the main character's confusion and feelings in regards of this great trauma. Touched  is a book that strongly affects you and that stays in your thoughts."
BTJ / SWE
"A formidable page-turner which will capture the teens, young adults and adults who dare! / / it is impossible to stop reading until the cold sweaty reader has made it to page 400 and the book's very last sentence. The tension in Touched is strong, the surprises in the plot are numerous, the vulnerability of the sixteen-year-old protagonist is heart-wrenching. The very last sentence of the book, by the way, is – horrifying. Or maybe: wonderful. What I mean? Read the last sentence. I know you will understand."
Västerbottenskuriren / SWE
"This is haphephobia (=fear of touching or of being touched) in its most extreme form. A fourhundred pages long page-turner. No one will leave the book untouched."
Aftonbladet / SWE
"Wow. What. A. Book.
I am hooked already by 50 pages, because the book is exciting and engaging from the beginning, as it is special. It is perfect for stretch reading and the fact that it is is also a bit longer than the traditional YA novel is wonderful, because it allows you to get a little more of both characters, action and development, which makes the book even better."
Tusen sidor, blog / SWE
"Gustav Tegby has written a spot-on debut and builds a breathless story. Dialogue, characters, and plot fit perfect. A must-read!"
Vi Läser / SWE
"Tegby's amazing way to build characters makes me want to take pictures of quotes and publish them on Instagram. Maybe that's the biggest praise these days? Insta-worthy books."
Expressen / SWE