IN DREAMS (Norra Latin)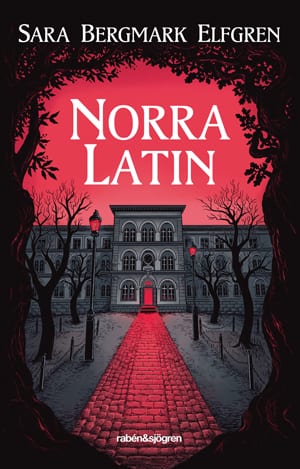 AWARDS AND NOMINATIONS
2018 – Winner of Best YA-of-the-year, Swedish Audio Award
2018 – Nominated to the Nordic Council Children and Young People's Literary Prize
Tamar's dream is to become an actress. Clea has grown up in the theatre and on film sets. One rainy day in August they enter the esteemed theatre programme at Norra Latin Upper Secondary School in Stockholm. They are in the same class, but are worlds apart.
Tamar has left her family and friends and moved to a new city, only to realize that she doesn't fit in at her new school. Clea is born and raised in Stockholm and effortlessly ends up at the top of the hierarchy at Norra Latin.
But the venerable building harbors many secrets. A tragedy that occurred during the time Norra Latin was a boys' school has transformed into urban legend. During the production of A Midsummer Night's Dream in the auditorium, a teacher died and one of the young actors disappeared without a trace. What happened on that night almost seventy years ago? What is fact and what is myth? And who walks in the shadows of Norra Latin?
In Dreams is the first part in a quartet of stand alone novels. 
578 pages
RIGHTS
Czech Republic: Omega/Knihy Dobrovský
Germany: Arctis Verlag
Israel: Sela Publishers
Italy: Fandango
Norway: Kagge
Poland: Sonia Draga
Sweden: Rabén & Sjögren
Blurbs
"Sara B. Elfgren is a wizard of a writer. Her relationships are so real that they feel magical, and her magic so vivid it creeps under your skin."
Maria Turtschaninoff, (Maresi and Naondel)
"Yes! An haunted school, a hidden mystery and heartbreak. Full of unique and authentic characters."
Siri Pettersen, (The Raven Rings Trilogy, The Vardari Trilogy)
"I love, love, love this book! I want to live inside it!"
Salla Simukka,  (Snow White Trilogy)
"I love this novel with its clear voices, remarkable intertextuality and heart pounding mystery."
Tone Almhjell, (The Twistrose Key and Thornghost)
"I couldn't stop reading and finished at four in the morning. (…) A book for everyone who loves the fantasy genre. Inclusive and innovative."
Sara "SongBird" Linderholm, Swedish YouTuber with over 100 000 followers
"Since this is portrayed with such astuteness and virtuosity in In Dreams, it becomes a true pleasure to follow the events of the story. (…) a page-turner."
Yukiko Duke, renowned literary critic and BookTuber / SWE
Reviews
"In Sara B. Elfgren's fantasy novel the past and the present are interlaced, creating a profound and exciting story of timeless themes as love, ambition, abuse of power and the intoxicating desire for success."
Barnebokkritikk / NO
"Some themes and motifs keep coming back because they are important and universal. And B. Elfgren is able to show them in a fresh, engaging, moving, and – very much so – authentic way."
Kultura Liberalna /PL
"A brilliant fantasy novel."
Dagens Nyheter / SWE
"[…] reminiscent of Donna Tartt's The Secret History."
Dagens Nyheter (The Best Books of 2017 List)/ SWE
"One of the Best Books of 2017."
The Science Fiction Bookstore chain / SWE
"I ADORE In Dreams! […] To be honest, there is nothing I would like to change. I want the novel just the way it is. It is simply perfect!"
Bokdrömmar, Bookstagrammer / SWE
"This is an author I'd follow to hell and back. […] Despite its length it is a quick and easy read, and so delightful that I had to force myself to slow down to savour the experience. […] I LOVE this book deeply and I think everyone, teens as well as adults, should read it."
Astrids boktips, Bookstagrammer and librarian / SWE
"The characters are complex and have many sides to consider. The way they are written make them seem so real, and it feels strange to know that they are fictional. It feels like I know them personally and I want more, more, more."
Författarfnatt, blog  / SWE
"In Dreams is the book of my dreams […] The writing is so amazing that you hardly notice the length of the book, and the story is unique."
Tusen Sidor, blogg / SWE
"[…] a thrilling story with supernatural elements, but also a very realistic and accurate portrayal of what it is like being young today."
Ugglan och boken, blogg / SWE
"This book is a treat."
Jönköpings-Posten / SWE
"In Dreams is an brilliant book by an equally brilliant Swedish writer!"
Kim Jakobsson, Gamereactor.se / SWE
"[…] impossible to put down."
Minabibliotek.se / SWE
"Sara B. Elfgren skilfully handles the fantasy elements, but her greatest literary gift is how she, in a realistic and subtle manner, manages to portray the thoughts and feelings of young insecure people. Her ability to empathize with the chaos of being 16 and longing for freedom, longing for love – is nothing short of wondrous."
Västerbottenskuriren / SWE
"A perfect blend of fantasy, thrills, everyday life and characters that remain with you. One of the best books of the year."
Stockholm City Library's Instagram @laslusten for Y.A literature
"In Dreams is the best book I've read this year. Impossible to put down."
Johanna at Dillberg's bookstore / SWE
"This is, without exaggeration, this year's best young adult novel! 5 out of 5."
Bokkoll.se / SWE
"Elfgren […] is eerily ingenious when it comes to portraying teenagers. One starts to believes the characters can be found and followed on Instagram. […] Her writing is precise and detailed without being overwrought."
Expressen / SWE
"I think the readers will be overjoyed by this novel's fresh and lush universe […]."
Arbetarbladet / SWE
"Sara B. Elfgren has done it again: a page-turner with settings and characters that drew me in and made me part of the story. […] future classic."
Agneta Norrgård, literary critic, and Bookstagrammer @agnetasabc / SWE
"I love this book. Period."
Carolina läser …, book blog / SWE
"[…] here's everything you wished for: incredibly well-written and complex characters, vivid and astute observations and, in addition to that, some magic to bring matters to a head."
Dagens bok, blog / SWE
"Relevant, thrilling and exceedingly well-written."
Bokelin, blog / SWE
"The novel is a striking companion to the testimonies of Swedish actresses in the #metoo movement."
Göteborgs-Posten / SWE
"Sara B. Elfgren's new novel In Dreams is beyond great and creates a magic of its own. […] a world so real that you believe everything that takes place in it."
Tidningen Kulturvinden, book blog / SWE
"Even though I am usually averse to supernatural elements in novel, I wholly accept them in Sara B. Elfgren's novel. […] the blurred line between reality and imagination is what makes In Dreams a truly great read. I adore it."
Enligt O, book blog / SWE
"I want to read more this instant!"
Prickiga Paula, book blog / SWE
"In dreams exists to be read and loved! 4+/5″
Boktokig, book blog / SWE
"An amazing read that I want to recommend to everybody, even those who – like myself – shy away from speculative fiction."
Stories from the City, book blog / SWE
"I'm starting to think of Tamar, Clea and Tim as real people. […] I googled the school several times thinking: the school has to be a real school, right? Or how come everything else feels so real? A stunning young adult novel […]"
Ljudbok.se, book blog / SWE
"In Dreams surpassed my high expectations. […] It is, in short, irresistible."
Fantasy Book of the month by The Science Fiction bookstore chain / SWE
"The author creates a young adult novel in the intersection between realism, urban fantasy, historical fiction and horror. […] The author uses literary references and mythology in a skilful manner. […] Sara B. Elfgren's lucid prose is masterfully balanced. […] The result is a thoroughly well-written page turner that will linger with the reader, young people as well as adults. 5/5"
BTJ / SWE
"OK, this is SO great. The writing, the characters and the story. And those of you who have read the Engelsfors trilogy won't be disappointed."
Children's Book Club / SWE
"A book for a day on the couch because In Dreams is unputdownable."
Norrbottens-Kuriren / SWE
"It's very hard to tear oneself from In Dreams. If you like theatre, fantasy, dark stories and mysteries it is a must-read!"
4/5, Julia Among Books /PL
"One of the great reading experiences of this fall."
Siri Larsen, librarian at Deichman's Main Library in Oslo / NO
"I enjoyed reading this book immensely."
Deník jedné Knihomolky /CZ
"I promise that everyone who has been 15 years old can relate to this brilliant depiction of teendom in our world. Darn, it's good! Read it!"
Staff of PocketShop /SWE
"The high school difficulties that the characters encounter have a believability to them that few writers manage to create. […] I give my heartfelt recommendation."
Lesbiska bokbloggen / SWE
"For staying absolutely true to the feelings, dreams and life-changing relationships of the high school years."
Expressen (The Best Books of 2017 List) / SWE