LET'S PLAY! (Nu leker vi!)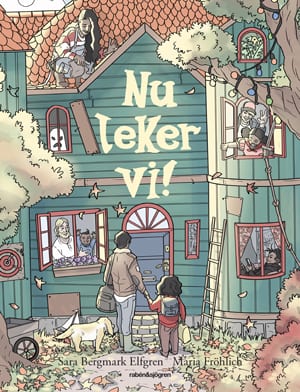 Sara B. Elfgren's and Maria Fröhlich's new picture book Let's play! is a celebration of imagination and the games children play. It is a book about disappearing into an exciting world filled with unicorns, pirates, poisonous swamps, slithery snakes and angry crocodiles, and the joy of being able to return when it gets too scary.
The cousins have moved to a huge house in the countryside. It smells funny and one of the rooms is full of strange things:  a water boiler with a torn cable, an old globe with old countries on it and a cloak full of yellow stars. Who was the old man who used to live here? Maybe he left a treasure behind?
Let's Play! is a stand-alone sequel to the critically acclaimed Time for Each Other.
32 pages
Rights
Sweden: Rabén & Sjögren
REVIEWS
"The best thing about this book is that I get to see the playing from a child's perspective. There are Unicorns in the meadow and in the clouds, the bathroom floor is a rolling sea, the laundry basket turns into a boat and in the bedroom there are crocodiles and dangerous snakes. I was completely absorbed by the illustrations and almost forgot the text. But yes, I read the text too. It feels credible to the target audience and gives that little extra to the illustrations. There isn't much focus on who is who or what relationships the different people have, which in a way is liberating. White skin, darker skin, cousins, children, teenagers and adults all over the place. Everyone gets to be who they are and it makes the book more accessible to different family constellations."
Barnboksprat, blog / SWE
"Let's Play! has illustrations every child will get attached to. The book is about a child with parents, going out on the countryside where the cousins live in a new house. The previous owner has left the house in a mess, semi-finished rooms filled with odd things. For the children, this is the perfect play area, where the fantasy has no limits. Of course, it will be a treasure hunt. A scary one, but with a happy ending. But the grown up reader probably sees the ending with different eyes than the children. And maybe with a little bit of pain in the chest."
Blekinge Läns Tidning / SWE
"Unlimited imagination in Let's play! by Sara Bergmark Elfgren and Maria Fröhlich! A family's visit to a big old house in the country side becomes a thrilling adventure among crocodiles, pirates, ghosts and parrots. It is liberating to meet the children in an environment far away from the one most commonly presented in children's books, with the Caucasian, nuclear family. Here, I can never figure out who is sister, brother, parent or cousin to these happy kids. Boys, girls, black skin, white skin, ponytail, pink dreadlocks, old, young – it doesn't matter. Everybody are joining in the play, and everybody move across the boundaries. One can only hope that the book leads further into the universe of role-play and pretend games, and also that more adults take the time to join in. The final image's cozy gathering around the pizza, candle lights and board games, portray a dream of a screen free family get-together, which unfortunately too few of us manage to create in the oh so fleeting reality."
Expressen / SWE