Odin's Child (Odinsbarn)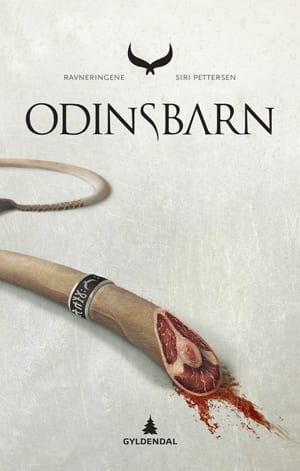 The Raven Rings Trilogy has been maturing in the head of the author for almost a decade. Dealing with matters of xenophobia, blind faith and the right or will to lead. This is epic fantasy literature with a purpose.
Hirka is fifteen winters old when she learns that she is a human, a child of Odin – a tailless creature from another world. As a carrier of the rot, she is despised and dreaded. And hunted, by someone who wants to keep her existence a secret. But there are far more dangerous things than Odin's descendants. Rumours have it that the blind ones are back, a thousand years since they last spread terror throughout Ymslanda. Could Hirka really be the only creature to have broken through the gates?
In The Raven Rings series the classic elements of fantasy literature have been reinvented. There are no prophecies, no dragons, and no magic swords. There is magic, to be sure, but you won't find that word in the book. The protagonist is a resourceful, female outcast, living with a savage Northerner who deals drugs. She is not "chosen", and has no special powers. In fact, what sets her apart is the terrifying fact that she lacks the powers that everyone else has.
The series is built on Norse mythology, but is far from defined or restricted by it. The world is unique, complex and complete on its own. Later in the series, the story will involve travelling between different worlds. But that's kind of a spoiler, so don't tell anyone!
672 pages
Rights

Brazil: Editoria Valentina
Czech Republic: Host
Denmark: Gyldendal
Estonia: Varrak
Finland: Art House/Jalava
Germany: Arctis
Israel: Sial Publishers
Italy: Multiplayer
Norway: Gyldendal
Poland: Rebis Publishing
Russia: Eksmo
Sweden: B. Wahlström
Ukraine: Nebo BookLab Publishing (illustrated edition)
USA: Arctis US/W1-Media
Film rights

Maipo Film, Norway
REVIEWS
"Blood magic, blackmail, and battle rock a rich world of fading magic to its core in this internationally bestselling Norwegian epic fantasy.Translated into clear, appealingly poetic prose, Pettersen's slow-unfolding Nordic fantasy fills wide landscapes with danger, dry humor, and sacrifice. This series opener will captivate lovers of Bardugo's gritty situations and Pullman's wide mythic worlds."
Publishers Weekly /USA
"This book is a drug in itself. Like Game of Thrones on speed. Fast, unique and addictive world. Odin's child is a book that every lover of GOOD fantasy must read. I have never read anything like it. You're handed over 600 pages of tension. I promise you … you do not put this book down voluntarily. Siri Pettersen writes fluently and above all fast. The story goes like Game of Thrones on Speed. Unique tension. It never stayed calm. There is always compact, visually described action. Visual is the right word here. I have never experienced such magniloquence. Siri Pettersen takes the reader by the neck and puts him directly into the action. You rarely experience that."
Rainbookworld, blog / DE
"this is an intricate, engaging novel. The story examines and upends everything its characters believe in, including their world, their history, their faith, and themselves, while intertwining elements of politics and Norse mythology with a side of forbidden romance."
Kirkus Reviews / US
"Odin's Child, Siri Pettersen's first volume of The Raven Rings Trilogy, has just been published. And what a novel it is! It is a fantasy tale. But from the moment one is led into the story, you feel immediately that you are far from the fantasy universes you are used to. One cannot help, but to be wildly impressed by this amazingly and fantastically written story. The storytelling and the portrayals are outstanding. Characters like Thorrald, Hirka, Ilume An-Elderin, Rime, Urd Vanfarin etc. are crystal clear to the reader. And the language is unusually fluent and nice to read. Imagine, this is a debut novel. A first attempt, and then it seems so complete and well-structured as if it were an experienced writer who had produced it. To keep as many narrative elements in the air and land them in such a deeply satisfying way. Hold up, it's skilfully done! This should become an international classic. Please let it soon be translated into English and it will be enough to get it up in full swing. It deserves it so much."
Børn & Bøger Blog / DK
"The first part of Siri Pettersen's The Raven Rings Trilogy, Odin's Child, has been the thing in Nordic fantasy literature during the last couple of years. The praise is not unfounded: the narration flows well, the characters are complex and the world intriguing."
Helsingin Sanomat / FI
"Once I got into the characters and the world – I fell in love with it totally. I fell in love with the adorable, brave but deeply feeling and caring Hirka, with the Nordic Ymslanda and its inhabitants with a supernatural ability to the Might. I fell in love with the Might and especially I fell in love with Rime, who could question things and face the dangers but also love in the true sense of the word. Thank you Siri, you are Norway's gift to the world! I'm waiting eagerly for the next book, The Rot."
Dysphoria, blog / FI
"I don't even know where to start singing the praises for Odin's Child because I haven't read such a great fantasy novel in a long time. I was enchanted by the fantasy world Pettersen has created and can absolutely recommend Odin's Child. The book will certainly be of interest also to those who don't tend to read fantasy."
Mustemaailmani, blog / FI
"Siri Pettersen's Odin's Child is the beginning of The Raven Rings Trilogy and bugger, you need to wait for the sequels. The world Pettersen has created is interesting and fittingly weird without too many spells or dragons. Everything in Odin's Child works. The story is good, fast and captivating, the characters complex and recognizable. Pettersen has left out the black-and-white and absolutes. The world is complex and has many shades, the characters are whole, no caricatures, and the society complex but still not difficult to comprehend. A great piece of work!"
Eniten minua kiinnostaa tie, blog / FI
"An absolutely splendid new book, story and world, with the Nordic austerity combined with the credible, imaginary Ymslanda. A great vibe! Fascinating narration for an adult taste, political intrigues and suspense. I'm eagerly waiting the story to continue!"
HourglassEyes, blog / FI
"Odin's Child charms with its inexplicability! Pettersen doesn't spell it out for you. It stands out with its Nordic touch. This is something worth showing to the world."
Morren Maailma, blog / FI
"First and foremost, what the Norwegian debutante Siri Pettersen has accomplished with the first part of the planned The Raven Rings Trilogy, is a future classic. I have rarely been as impressed as I am with her drive in the narration, her design ability and visual qualities, and I must go back many years to find something similar. What we see now is a star being born on the fantasy sky, a star that not only shines over a Nordic frost-bitten Scandinavia, but one that is sure to shine internationally. Odin's Child is an unbroken exciting adventure, but also a story of passion for social justice, about origin and identity, inequality and power relationships. Siri Pettersen's writing is pictorial mature, it is made for a grand Netflix production. But perhaps her most outstanding quality is the ability to get the reader to really get close to her characters. She is far from the traditional epic fantasy's common distant heroes and anti-heroes, who only plays their roles and achieve their functions in the immutable fantasy land. This is different. This is better, much better."
Dagens Nyheter / SWE
"One outstanding thing is how the book deals with existential questions – about what life and death are, what a divinity is and what faith is. Different approaches form all the major world religions and philosophies are included in different ways in the different character's way of looking at the world and their responsibilities for their lives and for society."
Kulturbloggen.com / SWE
"I am thrilled."
Kulturkollo.se / SWE
"Siri Pettersen has been praised for renewing the fantasy genre with Odin's Child. I cannot have an opinion on that, since I know too little about fantasy to do so, but I do know that I find Odin's Child being a very good book, and that is good enough for me."
Ihyllan.se / SWE
"I most certainly have to read the next book in The Raven Rings Trilogy. The finishing in Odin's Child makes it absolutely necessary to find out what happens next to Hirka."
carolinalandin.blogspot.se / SWE
"Siri Pettersen enters the Norwegian literary field with a fantasy novel so well-crafted and so exciting that it seems almost incomprehensible that a debut author is capable of such an achievement."
Solgunn Solli, Altaposten / NO
"An impressive fantasy universe. Above all, it's the well-crafted prose and the absence of speculative effects which raise this work high above many others in the overpopulated fantasy genre. The book offers nerve-wracking suspense and convincing characters."
May Grethe Lerum, VG / NO
"Debut author Siri Pettersen exhibits talent way beyond average in the fantasy genre, and has written a vivid, exciting and great story."
Ørjan Greiff, Adresseavisen / NO
"Absolutely fantastic! It doesn't get any better than this! I don't think I've been so completely immersed since Harry Potter."
Eileen Drotningsvik, book blogger / NO
"I bow to the ground! I can whole-heartedly proclaim that this is the most amazing fantasy book I have ever read! A fabulous universe and a cast of characters that make me so excited that I am lost for words."
Berit Lie, book blogger / NO
"Norwegian fantasy to a new level. The twists throughout the book puts Odin's Child in the fantasy landscape as if it was always there."
Kristin Øhrn, Brabok / NO
"This shows that the idea base for fantasy literature is expanding. This is an impressive, ambitious and well written debut."
Morten Olsen Haugen, barnebokkritikk.no / NO
"There's nothing left to do, except take off your hat, bow to the ground and offer your congratulations. Pettersen has crafted a believable and convincing universe, with a rich and diverse cast of characters."
Bøker & bokhyller, book blog / NO
"I finished the book today, and I started it yesterday. I only have two questions: Are the sequels written yet, and when will they be here?! I want more!"
Carina Glomsrud, book blogger / NO
"Odin's Child was a terrific read. It's suspenseful, unpredictable, has great characters whom I care about, as well as a solidly constructed universe. Its themes concern our own society as much as the made-up society it depicts, and it left me wanting more."
Elisabeth Bakken, book blogger / NO