THE DARK ELM (MITTLANDET)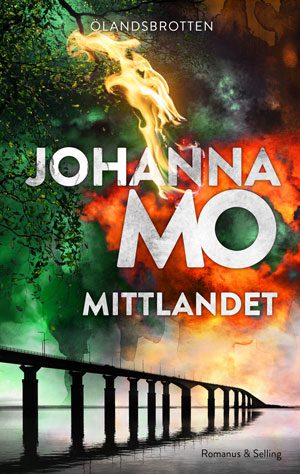 A few days before Christmas, Hanna Duncker wakes up in the night to find her house is on fire. She manages to escape but the house burns to the ground. Hanna is devastated but also confused. For some reason she has a feeling this was not an accident and she fears that someone is coming after her.
Back at work, Hanna is thrown into a cold case. In June 1999, a group of students partied in an abandoned house in the Midland Forest. The morning after, Mikael Fransson was gone without a trace. Now, 20 years later, his skeleton is found and there is no question, he was murdered. Mikael's relatives need to know what happened, in order to have closure, and Hanna Duncker and her colleagues at the Kalmar police struggle to find out what really happened.
Outside of work, Hanna allows herself to be consumed by her new love, Isak, but when her own life is at stake, she is forced to confront the questions she is running from: What is the truth about the murder her father was convicted of and to whom does she dare to tell? And does the fire have something to do with the old case concerning her father?
The Dark Elm is the third part in the Island Murders.
400 pages
RIGHTS
Croatia: Fraktura
Denmark: Lindhardt og Ringhof
Estonia: Eesti Raamat
Finland: Like Publishing
Germany: Heyne Verlag
Iceland: Bjartur & Veröld
Lithuania: Obuolys
Netherlands: HarperCollins Holland
Norway: Aschehoug
Sweden, Romanus & Selling
REVIEWS
"Johanna Mo thoroughly succeeds in making Hanna come to life and getting the reader engaged in her life […] Additionally, [The Dark Elm] is thrilling throughout with beautiful scenery, and an entire cast of characters who are interesting – and the ending leaves me begging to find out more. Immediately."
Skånska Dagbladet / SWE
"This skillfully told story, about a lifetime of carrying both fear and darkness, unfolds with great care."
M Magasin / SWE
"The Dark Elm is the third installation of Johanna Mo's The Island Murders suite, and it's relentlessly thrilling. I read it during my last trip to Öland and I barely dared to step outside at night. Love, violence, and drama in what is normally considered a pastoral and friendly environment. Well worth a read."
Borås Tidning / SWE
"[The Dark Elm] holds a clever mix of narrative layers to the storytelling, and in addition it is incredibly well-written. The story ends with a strong cliffhanger, clearly showing there's a fourth book to come. […] This is very good, and Johanna Mo is a skilled author."
Kapprakt / SWE
"Johanna Mo is an incredibly competent author, and she has created a great character in Hanna Duncker. She's almost more interesting than the actual crimes. The much awaited fourth installment will be out next summer."
Dast Magazine / SWE
"Johanna Mo knows how to tell a story."
Dagens Nyheter / SWE
"Here is much of the same energy that made the first book in the series, The Night Singer, such a great crime reading experience. […] Don't be fooled into thinking this was meant to be a trilogy. This book ends in a solid cliffhanger."
Adresseavisen / NO
"The characters are interesting. As in previous books, Johanna Mo portrays real people who are put under great pressure. […] Johanna Mo writes well and knows how to tell a story. […] It ends with a real cliffhanger."
Stavanger Aftenblad / NO
"Johanna Mo's narrative voice and writing style is excellent, making it hard to put this well-written crime novel down. […] Highly recommended."
Hverdagsnett / NO