THE TREMBLING GRASS (DARRGRÄSET)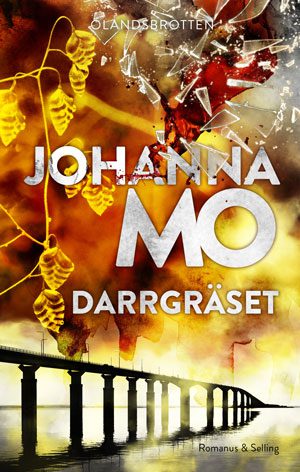 Hanna Duncker and her boyfriend Isak are expecting a baby. After a stabbing, where Hanna almost loses the baby, Isak tries to convince her to work less. Or ask for desk duty. But Hanna can't live without work and is convinced that working is the best way to deal with the stabbing and the upcoming trial which she hopes will once and for all free her father from the crime he spent many years in prison for.
Hanna's good friend Ingrid has recently reconnected with Vidar, her first true love. When she finds him dead, the police initially think that he killed himself, but Ingrid finds it hard to believe. When the signs start to point to murder, Hanna and her colleagues at the Kalmar police interrogate troublesome neighbors and, with Ingrid's help, they unravel Vidar's motley past. But the game plan changes when Ingrid falls acutely ill and Hanna's ability to keep a cool head is put to the test.
Hanna's brother Kristoffer has returned to Öland for the trial. Filled with anxiety and anger, he more or less invades Hanna and Isak's fragile cohabitation, and the tension becomes severe. Will the truth come out about what really happened 17 years ago, when Hanna and Kristoffer's father was convicted of murder?
The Trembling Grass is the fourth book in Johanna Mo's bestselling Island Murders Series, featuring police investigators Hanna Duncker and Erik Lindgren.
423 pages
RIGHTS
Denmark:Lindhardt & Ringhof
Germany: Heyne Verlag
Norway: Aschehoug
Sweden: Romanus & Selling
REVIEWS
"The Trembling Grass is the fourth part in Johanna Mo's series The Island Murders, which is almost as much about relationships as it is about crime. Mo skillfully alternates between four different point of views. […] One perspective belongs to the deceased shortly before the death, while the others give a broad description of background, investigation, and relationships. Her language is active which creates an excellent and deft forward movement."
BTJ / SWE
"In The Trembling Grass, Johanna Mo has found the perfect balance between Hanna's personal story and the current murder investigation.This increases the suspense around both stories and makes the book perhaps the best page-turner in the series. Connections to the past, the lifelong consequences of a crime and well depicted, complicated, close relationships are present in both stories and give them weight and depth. The resolution of the Vidar story is also unexpected, to say the least. True to her habit, Johanna Mo also lets a real cliff hanger end the whole book and I just want more right away."
Gunilla Wedding, Skånska Dagbladet / SWE