THE SHADOW LILY (SKUGGLILJAN)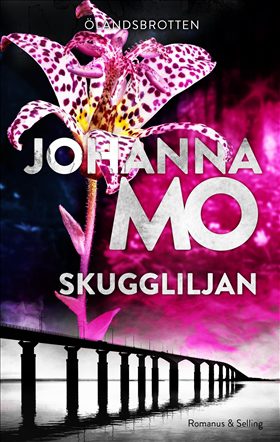 Jenny comes home to Öland and discovers that the house is empty. Have her husband Thomas and her son Hugo, 14 months, disappeared voluntarily or not? Hanna Duncker at the Kalmar police is thrown into an investigation that exposes secrets and old loyalties. 
It turns out that Jenny's husband has an adult daughter whom he never told her about. When Thomas is found dead and Hugo still is missing, the case takes a new turn. The whole island joins forces to find little Hugo before it's too late.
Hanna struggles with her own past and memories, something that affects her work. What really happened 16 years ago, when her father was convicted of murder? It seems that someone is taking increasingly drastic measures to keep her from finding out the truth.
The Shadow Lily is the second instalment in the Island Murders.
422 pages
RIGHTS
Croatia: Fraktura
Denmark: Lindhardt og Ringhof
Estonia: Eesti Raamat
Finland: Like
Germany: Random House / Heyne
Hungary: Animus
Iceland: Bjartur & Veröld
Italy: Neri Pozza
Lithuania: Obuolys
Netherlands: HarperCollins Holland
Norway: Aschehoug
Portugal: Porto Editora
Sweden: Romanus & Selling
UK: Hachette / Headline
US: Penguin Books
REVIEWS
"Johanna Mo's new novel, The Shadow Lily, is a solid police procedural that brims with twists, turns and surprising revelations."
Sarah Weinman, The New York Times Book Review / US
"Mo employs alternating perspectives to great effect, using them to deepen the reader's understanding of the events and the characters involved."
BookPage / US
"Fans of realistic, detail-oriented police procedurals will appreciate this one."
Publishers Weekly / US
"A cliffhanger that leaves you longing for more. […] Johanna Mo continues with her lauded Island Murders series. The second installment The Shadow Lily is just as thrilling as The Night Singer."
Borås Tidning / SWE
"A handful of suspects are introduced through thrilling flashbacks from the victim's last day alive – the same reliable way to keep your curiosity on alert as in The Night Singer. […] This is the same kind of clever suspense as that of a wickedly good tv series with fast-paced scene changes, yet with a brilliant emphasis on the internal monologue."
Kristianstadsbladet / SWE
"It's gruesome, dark and fearsome."
Femina / SWE
"It's both well written and thrilling. […] The Island Murders is so far a perfect example of how to build a series, it's impressively constructed […] [Johanna Mo] is really good."
Kapprakt / SWE
"This time around I'm again deeply invested in Hanna Duncker's private history that began in the last book. Was her dad really guilty of the murder he was imprisoned for that made Hanna leave Öland so young? And who is threatening Hanna when she starts digging through her father's past? […] Johanna Mo really knows how to enrich her books with people you care for, and she captures difficult and vivid emotions just as well as the Öland milieus. […] I already long for the next book."
Norra Skåne / SWE
" The author is stylistically excellent and precise as she constructs her narrative. Every sentence seems well thought-ought. The character portrayals and milieus feel authentic. With meticulously chosen words and an effortlessly constructed narrative she succeeds in making the reader experience grand imagery through small means."
BTJ / SWE
"…Johanna Mo really knows how to populate her books with people you come to care about, and she captures both strong and difficult emotions as well as she does the Öland milieu."
Skånskan/ SWE
"The second installment of 'The Island Murders' is a rapidly told crime story with a dark family secret that adds melancholy."
Smålandsposten / SWE
"The author manages to keep the reader hooked in the second installment of the Island Murder series. She successfully creates suspense through complicated family relationships and the tension between people who live in small communities. It's splendidly done."
Stavanger Aftenblad / NO
"Johanna Mo has yet again given us a well-written crime novel, with strong characters and a splendid portrayal of life on the island."
Tine Sundal / NO
"Johanna Mo has a secure grip on a crime novel that both offers a finished story, as well as a part of a longer narrative arc, and it holds much of the private lives of her characters."
Jyllands-Posten/ DK
"The Shadow Lily is a crime novel that feels believable, it doesn't try to be more than it is. It doesn't overplay the drama, and neither does it underplay the coincidences and dilemmas of reality, and therefore the underlying horrors are all the more present. […] The Shadow Lily is a perfect crime novel for rainy days, one of those books that does well together with a cup of tea, a blanket and lazy days in the summer house. […] It may storm and rain heavily but you will survive by reading this excellent murder mystery that is filled with riddles and cliffhangers, and then wait patiently and with growing excitement for the sequel."
Berlingske / DK
"Suspenseful and skillfully composed, Johanna Mo will delight crime fans with her second case."
Nord News / DE