THE BEST BOOK IN THE WORLD (Världens Bästa Bok)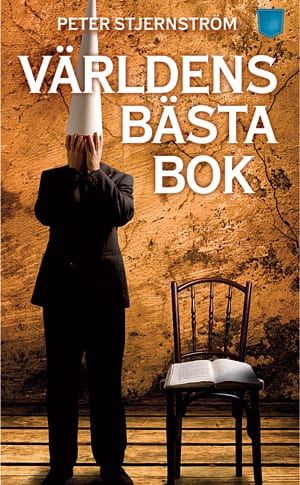 The old novelist is scarred by heavy drinking and alienation. But when sober, his keyboard is divinely gifted. His colleague, the young and handsome poet, can bring a rock to life with his heat. He loves the world and the world loves him.
The two authors crack a brilliant idea, at the same time. One should write a book that has everything! A book that tops the charts in a number of categories: thriller, cook book, dieting, popular psychology, self help, and so on. Everything at once. If successful, it will sell like hot cakes and is going to top bestseller lists all over the world. Such a book will bring money, fame and immortality. But only for one of them. The one who is first.
A crazy and exciting game picks up in which the authors are forced to new working methods in order to reach their goals. Who will find best inspiration? Who will manage to snare the young publisher Astra? Who will win and who will lose?
The Best Book in the World is a book with extra everything. A fast paced and entertaining novel about creativity, freedom and dependency. A study in hubris which shows what can happen when you try to take a really big bite.
363 pages
Rights
Estonia: Kunst
France: Le Cherche Midi
Germany: DuMont
Hungary: Athenaeum
Lithuania: Versus Aureus
Poland: Swiat Ksiazki
Sweden: Kalla Kulor Förlag, Pocketförlaget, HOI (e-right)
Turkey: Ithaki – Yabanki
UK: Hesperus Press (WER)
REVIEWS
"The book pushes the controls as if Terry Gilliam came in from the cold, tickled our nerves and  jawbones. Wonderfully crazy."
Le Figaro, Madame / FR
"Cruel and funny, the novel makes the reader hold the breath."
Elle / FR
"Exciting, very amusing and easy to read."
Frankfurter Allgemeine / DE
"He has written a very funny, original and easy-to-read book that answers the question if it's possible to write a timeless bestseller by merely pushing a button.  And the different narrative levels leave room for interpretation. The Best Book in the World? At least. Above all, a great fun read!"
Kölner Stadt-Anzeiger / DE
5/5 stars: "A humorous, satirical nudge at the publishing industry with a serious side and an anti-hero for whom we can plump. Cracking stuff!"
The Bookbag / UK
"Stjernström has written a novel in which the comedy is, as comedy so often is, edged with something darker. His crisp, economical writing style has been efficiently translated from the Swedish by Rod Bradbury."
The Herald Scotland / UK
"The Best Book In The World is a clever piece of work, an explosively brief bombshell of everything you could ever love in a book. /…/ Every time I thought I had this book pinned down, it caught me off guard in the very next chapter."
Edinburgh Book Review / UK
"Highly entertaining reading. / … / bitter truths about humans, the media climate, the thirst for confirmation, but also about the two faces of creativity and an industry that makes fun itself without knowing it. /…/ I would also like to place an order, or rather make a wish. Who is better suited to write a pure Sweden-satire than Stjernström, about the perfect country, the Jante law, the pill eating, original sin, inferiority, and so on?"
Tidningen Kulturen / SWE
"The story of Titus, the alcoholic has-been author competing with the handsome, charming love poet Eddie to write the best book in the world is so funny that you laugh out loud several times. / … / This is not only a loving mockery with the world of books and the personalities that populate it, but also with a lot of trends of our time. Moreover, it is written in a fun, creative prose. / … / It's funny, original and lovingly disrespectful."
Tidningen Kulturen / SWE
"…a well-written and funny tease with the book industry."
Aftonbladet / SWE
4/5 Stars: "This is essentially a light-hearted book with a fast-paced plot which drives the book forward. It has some very funny episodes …/…/But the author also makes you care about his characters who are realistic in spite of their idiosyncrasies and there are some moving scenes."
Newbooks Magazine / UK
Grade 4: "In many ways this is a very clever book. In order to write a book about an author who tries to write a book that encompasses several, if not all, genres Peter Stjernström had to write a book that covers several different genres. So, while we have a fascinating and at times very funny novel to enjoy here, we also get a lot of non fictional information about pizza, art, Sweden, and writing, among other topics. And for the most part the balance between story-line and other information is very well struck and fits the story perfectly."
More than a reading journal / UK
4/5 Stars: "The Best Book in the World is a great book that I very much enjoyed reading. Recommended for lighter literary-fiction lovers. This book will make you think, but it won't pose you any unsolvable mysteries either."
Nyx Book Reviews / UK
4/5 Stars: "I was sceptical at first but I have to admit I kind of fell in love with it all. The characters, the plot, the setting and the pacing are all wonderful."
Page to Stage Reviews / UK
"It's a highly entertaining read."
Booktrust / UK
"Stjernström's powers of characterisation and description are extremely sharp."
Necessary Fiction / US
"A versatile, extremely interesting and fresh voice in contemporary world literature."
Biblionetka / PL
"We are in the world of books among the struggling writer, smart publishers and the stereotypical media people. / … / Stjernström pull us around in a meta-obsessed writers workshop with a skilled hand. / … / His experience is entertaining us all the way through the thought-provoking 368 book pages. "
BTJ / SWE
"The characters are funny and the book is full of wonderful nerd things about writing itself, you will actually feel like writing your own book when you read this. / … / The pages just fly by. / … / … very entertaining."
The literature blog Böcker, böcker, böcker / SWE
"An entertaining book with wonderful and unusual characters. Score: 4 out of 5."
Boktokig / SWE
"… a story about writing and the author's conditions in an existence that is fragile, to say the least, and at the same time all you want to do is laugh at it. An entertaining lesson for all aspiring writers out there."
Dagens bok / SWE
"The book is filled with action and easy to read. The author twists and turns many times on who is who and who is writing a book before the last page is turned, but all leads are woven together nicely. Really fun and relaxing reading!"
Bokblomma / Sweden