THE CAGE GIRL (Burflickan)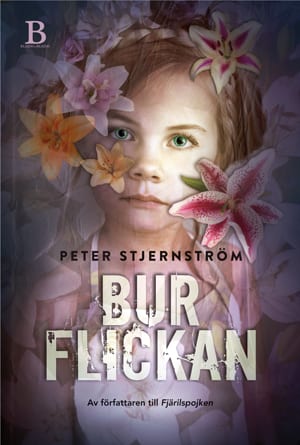 Aron is an odd young man who loves bees and beekeeping. When he was a child his father died in a brutal and strange way before his eyes. Since then, he has had a feeling that he should retaliate. But on whom?
Aron follows his instinct which takes him far from home but closer to his origin. The dramatic stories of a foolish experiment, an imprisoned cage girl and evil forces roll up.
The half siblings Nelly and Jonas were victims of abuse as children. The experiments that were performed on them equipped them with extreme intuition and an increasingly symbiotic friendship. Now they have decided to do something positive of their fate. But the remarkable power is unpredictable. Sometimes it puts a spoke in the wheel.
The financial genius Nelly suffers from melancholia ever since her daughter Lilja was born. She feels trapped and confined. And it will get even worse. Jonas works as an analyst at the enigmatic security firm Apisec. He faces an approaching kidnapping wave of small children. He also has a hard time trying to approach his colleague Isabella.
What do Nelly and Jonas have in common with Aron? The connections reach far back in time, to one of science's darkest chapters. One fatal mistake that set mankind's life conditions at stake.
The Cage Girl is a standalone sequel to The Butterfly Boy and an elevated thriller about love, friendship and ruthless anger. And about the bees, the vital but endangered small animals that make sure the plants we eat are pollinated.
371 pages
Rights
Sweden: Bladh by Bladh
BLURBS
"The Cage Girl is a unique thriller with an entirely new approach, strong characters and high suspense factor. A book for stretch reading, a book that makes you think, a book to remember."
Anna Jansson, bestselling crime writer
REVIEWS
"Wow, it's so good. / … / Just like 'The Butterfly Boy' it's a very well-written suspense novel and you notice that Peter knows what he writes about. A great and enlightening novel about bees, a vital insect. I am deeply fascinated by the book. Rating 5/5."
Svenska Böcker / SWE
"Captivating, fascinating page turner suspense!"
Bokspegeln / SWE
"Exciting, powerful and touching!"
Jennie's boklista / SWE
"As always, Stjernström is an excellent narrator, who knows how to set up the story. He is also so skilled that he can bring life to characters and environments with only a few words. / … / … I can only describe it as a pure pleasure to be filled with all the science and knowledge. For a curious person like me it's completely wonderful to read Stjernström's books!"
Epiloger / SWE