SEA LEAP (SJÖSPRÅNG)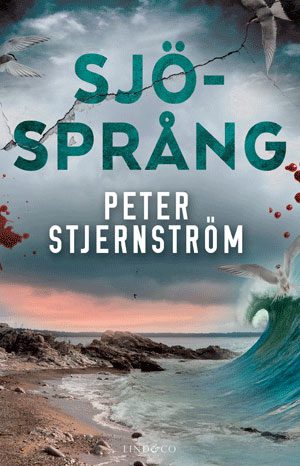 The idea that someone cold heartedly had set a living being on fire spread like a disgusting stench in Walla Hammar's brain. 
When the nationalist folklore society Bredablick comes to Gotland to party and explore local island culture, it is the starting point for a series of heinous racist crimes.
What horrific things are going on here? The seventy-year-old woman Walla Hammar wonders, whose self-imposed life mission is to keep her part of the island in balance. To succeed, she enlists the help of her granddaughter Bella and the "other", which some might call superstition and nonsense.
Walla's view is most of all questioned by her son Pelle, who together with Najma Rumi, a young reporter on P4 Gotland, is starting his own investigation. They share an opposite belief then Walla: facts and scientific methods.
But nothing is as simple as it looks. Old crimes and new injustices are brewing and soon life will be extremely dangerous for everyone involved.
444 pages
REVIEWS
"The strength of the novel is the different plot with the tensions between the supernatural and the scientific. The characters are portrayed very vividly, as is the Gotland environment. The language is straightforward and catchy."
BTJ / Kent Lidman / SWE
"Sjösprång is an excellent book, which stands out against police stories and other crime novels. I recommend you to read it but be prepared to be moved and even upset."
Bokhylla61 / SWE
"For those of you who are looking for suspense novels outside the mainstream, Peter Stjernström's crime series The Gotland Mysteries is recommended, where seventy-year-old Walla Hammar, together with her granddaughter, a bit superstition and a strong legal pathos, tries to prevent old quarrels and ancient acts of revenge from creating disharmony on the island."
Icakuriren, Linda Skugge / SWE
"Gotland's summer idyll, interesting characters that you take to heart (mainly Walla, but really all her closest ones), exciting food for thought in the form of "the beyond" and various natural phenomena. Peter Stjernström is well-informed and engaged, which makes the stories something extra. They touch me as a reader and arouse my curiosity. Thank you so much for another fantastic book! I'm already looking forward to the next one!"
Boksann / SWE
"A well-filled candy bag /…/ There is much to admire here /…/ The author has his own voice with great interest in odd natural scientific phenomena, with a keen eye for historical details, with a great deal of grotesque humor and with an interest in various epistemological perspectives; different ways of looking at life. In addition, he has an unusually fascinating protagonist for the genre, the seventy-year-old Walla Hammar, headstrong like few. In this particular book, there is a main theme around Swedish neo-fascism, current, important and portrayed in a very special way."
Kapprakt / SWE
"Well written, good theme /…/ The language flows nicely, you get close to the people and the theme is unfortunately all too current."
Dast Magazine / SWE
"I love the balance between natural phenomena, historical folklore and the crimes that arise in the story. It really builds up the tension. The characters are strongly described and add a nice touch to the story."
Sandra's books /SWE
"Peter Stjernström is not just another crime writer and his crime series with Gotland as a criminal environment is not just another series of Gotland crimes. Stjernström is his own crime writer, who writes his own crime stories./…/ Peter Stjernström has a superb ability to listen, understand, absorb and give life to whatever he portrays."
Bengt Eriksson, Deckarlogg /SWE