THE BIG NEWSMAKER
(Stora Journalist-Prisse)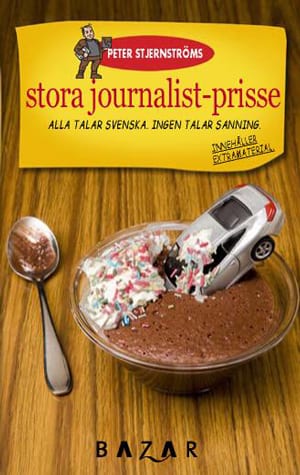 Are you among those who won't believe everything you read in the tabloids? Do you have a creepy and insidious feeling that someone is trying to fool you? You are right. And you have come to the right place. Welcome to:
THE BIG NEWSMAKER – Everyone speaks Swedish. No one speaks the truth.
The notorious liar Per Robert Isaksson, better known as the legendary Prisse, has worked nearly 25 years on the Evening Paper. He knows what he is doing. Research is tiring. Negative news is boring. Blablabla. Nope, people want a change. Spectacular, exciting stuff. The kind of things that make it possible to nurture hopes for better times.
The Big Newsmaker is a terrific odyssey that raises questions about human motivation, news and journalism. It is uncontrollably funny, senselessly crazy and uncomfortably shameless. Just as wonderful true as untrue. What is the drive for a notorious liar? Who makes up the news? What is true and what is a lie?
220 pages
Rights
Sweden: Bazar Förlag, Pocketförlaget, HOI (e-right)
REVIEWS
"The Big Newsmaker is a terribly funny stretch read."
Svensk Handel / SWE
"Spot on satire."
Stockholms Fria Tidning / SWE
"An attack on the tabloids that couldn't have been made up in a better way by any lying tabloid journalist. The book is vicious, funny and probably not entirely truthful either."
DAST Magazine / SWE
"Peter Stjernström's insanely funny story about Prisse is funny and easy to read."
BTJ / SWE
"Remarkably funny about a big liar. If you want to know who makes up the news, read The Big Newsmaker."
Ungt Forum, Malmö Stadsbibliotek / SWE