THE TRAPPED GHOST (DET INSTÄNGDA SPÖKET)
Petrus Dahlin
Illustrations by Sofia Falkenhem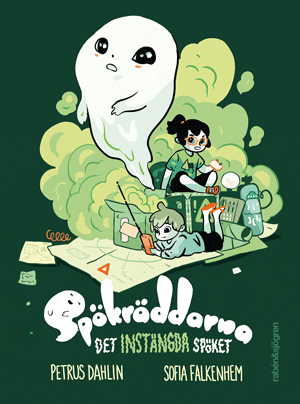 Did you know that ghosts are endangered? 
Is it supposed to be this boring during the summer holidays? The twins Sam and Sara don't know what to do, their parents just work in the restaurant all day and don't have time to do anything fun. But then one day, Dad reveals that there is a secret room in the family house. Grandma and grandpa, who previously owned the restaurant and the house, were a bit weird, they believed in ghosts and conducted ghost research down in the basement! Now Sam and Sara get to inherit all the equipment in the secret room. And maybe ghosts really exists … Sam and Sara decide to become GHOST SAVIORS!
Petrus Dahlin and Sofia Falkenhem have teamed up with a new series for 6-9-year-olds. Get ready for high pace and action, crazy characters, quirky inventions but above all GHOSTS!
The books in The Ghost Saviors series are thoroughly illustrated and can be read by newly independent readers or would work well as a family read-aloud. And don't be afraid, the ghosts in these books are almost always kind …
96 pages
Rights
Denmark: Turbine
Israel: Yedioth Books
Norway: Mangschou
Sweden: Rabén & Sjögren
REVIEWS
"Exciting, fun & nicely illustrated!"
Jenniesboklista / SWE
"It is difficult to stop, you just want to keep reading and suddenly the book is over. Luckily, there will be more parts of the series."
Barnboksbloggen / SWE
"Highly recommend this series."
Gustavs bokhylla / SWE
"This has become a new favorite series for both me and the eight-year-old that we really recommend! […] Oh, such wonderful books! ""
Bokhyllaniskuggan / SWE
"A book series that is very well suited for read aloud with its charming story and many cliffhangers."
Barnboksprat / SWE