SILVER THROAT (Sølvstrupen)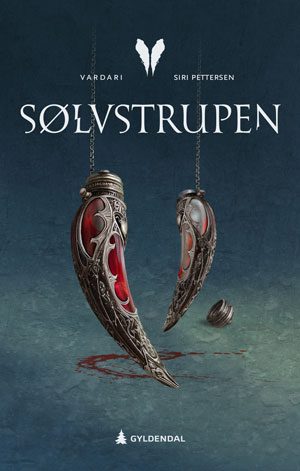 Imagine having stolen the devil from those in power.
Robbed them of their source of everlasting life.
And started a war, so fuelled by fear and disdain,
that you are forced to become what you are hunting.
Juva is scarred for life by the man she liberated. The devil himself, whose blood sustained the eternal lives of the vardari. Now, she is battling unintended consequences: a flood of wolf-sick, a wavering city council and vardari´s desperate feud for the last drops.
Consumed by grief and fury, she is forced to side with dark, fanatical forces. Juva is fighting for everything she holds dear, but soon finds herself on a knife's edge when she realises that the scar from Gríf cuts far deeper than she had imagined…
Silver Throat is the second volume in the Vardari trilogy, and the sequel to Iron Wolf. A captivating fantasy mystery on a norse foundation, about blood, desire and addiction. Vardari is set in the same universe as the award-winning international fantasy series The Raven Rings.
Rights
Czech Republic: Host
Denmark: Gyldendal
Finland: Herta Kustannus
Germany: Arctis
Italy: Multiplayer
Norway: Gyldendal
Poland: Rebis
Russia: Eksmo
Sweden: B. Wahlströms
USA: Arctis US / W1 Media
Film rights
[sic] film, Sweden
REVIEWS
"Irresistable. Overwhelmingly generous fantasy queen with another striking story. Hold on to your seat. The dramatic scenes, the atmosphere and the different characters. It is all fantastic. This is not a book about good and evi -but rather a nuanced psychological tale about our complex lives; difficult love, breaking of trust, and how failure and experience at the best can make you wiser. Now we understand each other. Thank you for this reading."
Dagladet / NO
"This is classic fantasy, and I mean in the very best way. […] She takes full advantage of the genre. This is a great, grandiose story with big themes. It's about finding yourself, liberating yourself from your own demons, from external demons, about anger, disease, revenge, sexual desire …"
NRK / NO
"Bloody and good […] Iron Wolf landed flawlessly on my love side, with great drive. Silver Throat follows in the same tracks, with the same high literary level. […] An organic universe, thrillingly driven by ever changing alliances."
Barnebokkritikk / NO
"With Iron Wolf Siri Pettersen fortified her position as Norway's Fantasy Queen. The sequel Silver Throat is even better. […] The parallel to our own reality is gut wrenching. It's like Pettersen tries to say that the world is too complexed to navigate wisely, but begs us to try anyway."
Aftenposten / NO
"Thrilling and vividly told […] Siri Pettersen writes visually, creating  atmospheres and images where you feel immersed in the action."
Adressa / NO