96 CLASSIC BOOKS FOR PEOPLE STILL IN A HURRY (96 romaner för dig som fortfarande har bråttom)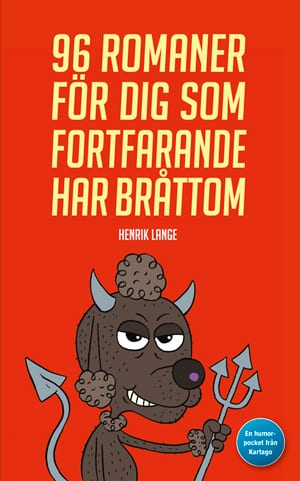 Finally the sequel is here to Henrik Lange's great success from 2007 90 Classic Books for People in a Hurry. He continues to summarize the greatest literary works of history (and a few other ones as well) and compresses them in a delicate and efficient way: in four panel comic strips. Henrik Lange doesn't only manage to describe what the novel is about, but he also gives the expression "Less is more" a true meaning.
We are served get quick versions of classics like Dracula, The Hitchhiker's Guide to the Galaxy, American Psycho, Pet Sematary, Earth's Children, Gulliver's Travels, The Three Musceteer, The Thorn Birds, Fahrenheit 451, Star Wars, Ivanhoe and even How to talk about books you haven't read.
195 pages
Rights

France: Editions çà et là
Sweden: Kartago
REVIEWS
"Henrik Lange loads every word and stroke with his pencil to the limit with so much irony it is hard not to laugh out loud."
Västerbottens Folkblad / Sweden
"This is an extraordinary funny and even generally educational book for just those in a hurry."
Filipstads Tidning / Sweden
"Extremely entertaining."
Vadstena Tidning / Sweden
"Makes your smile stretch from ear to ear."
Dagens Arbete / Sweden