LESSONS IN MURDER (Lektioner i mord)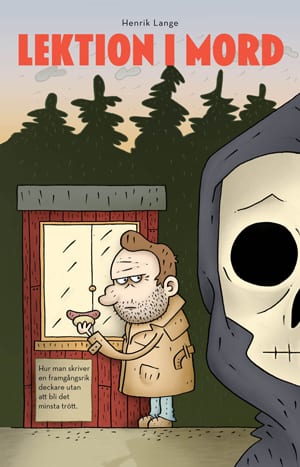 How to write a successful Swedish crime novel without becoming even the slightest tired.
Many people feel they are called upon, but few succeed in writing a successful Swedish crime novel. And to do it without being in the least tired is almost impossible. Would you ask the detective authors themselves how to do to write a crime story that will be a success you would probably get as many answers as books they have written … But Henrik Lange knows that all their answers will spring from the following conclusion: Someone has died and someone must find out why.
In Henrik Lange's always playful and at the same time well-founded manual, we follow a detective story, from beginning to end. Everything is included, the car chase, the obnoxious boss, the hot dog stand where crime commissioner takes most of his meals and of course the broken coffee machine in the police station. The story is interspersed with comments on stages one must have in the story like encounters with journalists, fights with the boss as well as with the ex wife and the children, alcohol problems, and bad sex. He also describes how to build a character and which persons must be included, such as the village idiot and the old lady. We get hints on how to make the book a "talking point" long before it comes out, how to create a selling cover, how to write the sequel, which merchandise products should be created and how to weave a theme in the story that no one would be interested in, had it not been in a detective story. And finally, how to become immortal by making the author better known than the book.
160 pages
Rights
France: Éditions çà et là
Germany: Goldmann
Norway: Vega
Sweden: Kartago
REVIEWS
"This is both funny and entertaining. In addition, Lange's drawings have a hard-boiled ironic touch that can make me wish that he wrote his own crime novels. Seriously."
Kristianstadsbladet / SWE
"One can gues that this book is a real killer. If you are reasonably familiar with Swedish crime you're going to smile while reading this book. Lange's simple drawings are as usual warm and catchy."
Aftonbladet / SWE
""In the form of an instruction book, and with a lot of irony and wit Henrik Lange teaches the readers how to write a successful Swedish Crime Novel. In satirical turbo tempo he presents the essential building blocks of the Swedish Crime wonder. It is very amusing."
NoOrdis / DE
"Absolutely delicious when illustrator and author Henrik Lange makes fun of the Scandinavian crime wonder. No cliché goes unmentioned and you find the unshaved, very divorced detective with a constant stomach problem and his annoying and shrill superior. "Lessons In Murder" is an equally witty and loving tribute to the genre. Only one who knows the genre totally can joke with it so brilliantly."
Stern / DE