99 MOVIES YOU DON'T HAVE TO SEE (99 Filmer du slipper se)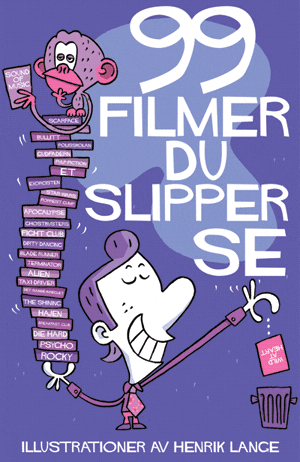 This is the follow-up to the success 90 Classic Books for People in a Hurry. In a remarkable way, Henrik Lange manages to compress 99 of the greatest productions from film history – every movie in four-panel comic strips.
In the book we get summaries of classics like Citizen Kane, Psycho, The Seventh Seal, The Misfits, Rocky, Jaws, Bagdad Cafe, Yojimbo, The Guns of Navarone, Jailhouse Rock, The Big Blue, The Shawshank Redemption, Rebel Without a Cause and Taxi Driver. Only to mention a few.
Rights

Brazil: Record
Chez Republic: Albatros
Denmark: JP/Politikens Forlagshus
France: Editions çà et là
Germany: Droemer Knaur
Great Britain : Nicotext
Greece: Paschalidis
Italy: Cairo Editore
The Netherlands: Kosmos
Portugal: Presenca
Sweden: Nicotext
USA: Nicotext
Film rights
France: KIZMAR FILMS