NOVELS FOR PEOPLE IN A HURRY – THE ULTIMATE COLLECTION (Romaner för dig som har bråttom)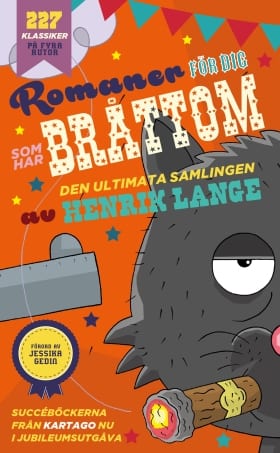 Who wouldn't want to have read all the books, or at least all the classics that were released? This is the book that makes it possible, without effort and in record time.
When Henrik Lange released 80 Novels for People In A Hurry in 2007 it was an immediate success. In four boxes Henrik summarized the Da Vinci Code, Dark Heart, Lord of the Rings, the Bible, The Brothers Lejon Heart, The Old and the Sea and many other old and modern classics in a brilliant manner. The book was published in over twenty countries and the readers cried for more volumes. Henrik Lange developed the concept to Films for People In A Hurry and later he also developed in-a-hurry books on a number of classic authors such as Emile Zola, Dante, Henrik Ibsen and August Strindberg.
For the tenth aniversary of the first book Henrik Lange is back with the ultimate collection. 227 novels condenced into four boxes. With a preface by Jessika Gedin.
465 pages