AGNES LOVES EDWARD (AGNES HJÄRTA EDWARD)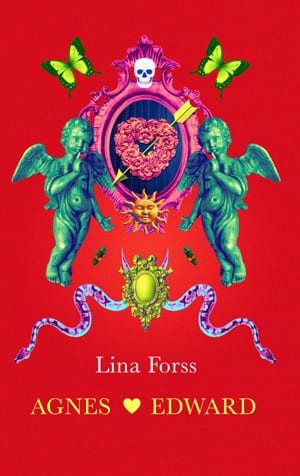 Agnes Loves Edward is a painfully beautiful love story. With a unique voice, Lina Forss tells the story about Agnes – Agnes who picks carrots in golden shoes, baths in November when she should be making love to the one she longs for, is the child of her children and scares the wits out of her therapist.
Agnes is married to Ragnar and the mother of Kim and Noah, and she wants to live even if it hurts – to find out what the difference is between good and bad. Ragnar is twenty years older than his wife and filthy rich. One day the artist Edward enters Agnes' world. Of course Ragnar can see what is going on, but he and Agnes have never lived like others and what can he do? And what on earth can Agnes do? If she doesn't live now, maybe life will end. So Agnes lets go and falls, and falls, and falls, although so many around her want to save her.
Agnes Loves Edward is an outstanding novel. Lina Forss doesn't bother about conventions on how a love story should be told. Agnes stubborn and selfish longing is in the center of the story and moves it forward. Agnes Loves Edward is also a beautiful portrait of a woman like no one else.
370 pages
Rights
Sweden: Wahlström & Widstrand
REVIEWS
"Lina Forss has written an extraordinary book. Agnes Loves Edward is a beautiful and almost urging portray of a woman. Agnes is not like anyone else, she doesn't care about how she speaks and acts – she just is. Very liberating."
Head library, Falu kommun / SWE
"Lina Forss' characters tease me. They are evil and god, weak and strong, irritating and inspiring in one big mess. Agnes is wonderfully liberated and intimidating and selfish, sick in her mind and a unique soul. Lina Forss portrays her with a humor and a wittiness I love."
Amelia / SWE
"Forss has written a fantastic, beautiful love story in a poetic style. The book should be read slowly and with great reflection."
Litteraturum / SWE
"Lina Forss tells her story about the great love so honestly one cannot become anything but deeply impressed and – in my case – provoked. In addition, she does it with a language of her own. I think you should read Lina Forss."
Book tip by Malin Persson (Piratförlaget) / SWE
"This language, it is equal parts of Björn Ranelid and Candace Bushnell."
Helsingborgs Dagblad / SWE
"This is good. Some expressions are even brilliant."
Linda Loves Books / SWE
"Those of you that still have not read this book, DO! It is so good, words can't do it justice."
Bokcirklar.se / SWE