THE CHAMELEON (KAMELEONTEN)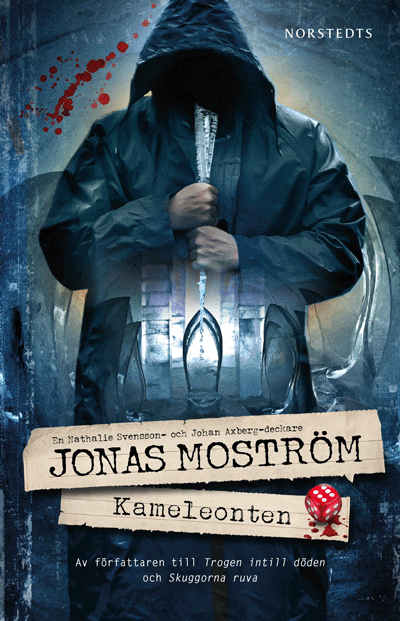 Jonas Moström on The Chameleon
Lawyer Sophie Ceder is strangled to death during a massage appointment at a luxurious spa in Stockholm. Everything indicates that it is the serial killer The Chameleon who has struck again, after a break of seven years. Disguised as everything from a priest and a cleaner to a receptionist and a doctor, the man with the thousand faces strangles his victims and leaves a dice as a souvenir.
Nathalie Svensson, Johan Axberg, and the other members of the Swedish national profiling team are called in. In the search for Sweden's most elaborate serial killer, they are forced into a roleplay where their private as well as their professional identities are threatened.
As the profiling team puts everything at risk to seize The Chameleon, the relationship between Nathalie and Johan is frosty. Johan has decided to stay with his family in Sundsvall, but now he tells Nathalie something that once again turns their relationship upside down.
The Chameleon is the seventh standalone title in Jonas Moström's popular and award-winning series about psychiatrist Nathalie Svensson and Criminal Inspector Johan Axberg.
Rights
Denmark: People's
Finland: Gummerus
Iceland: Storyside
Norway: Bonnier Norsk Forlag
Sweden: Norstedts
REVIEWS
"Prepare for thrill, cold sweats, and checking to see if the door is locked! The Chameleon is really good! Overall rating: 5/5"
BTJ / SWE
"You rarely feel the threat of a killer this strongly. As a reader, you are struck with paranoia, while the author puts out red herrings and sets things up for a sensational ending."
Sundsvalls tidning / SWE
"The chameleon is sharp and thrilling, the text has a drive that makes you want to be five pages ahead of the story to quickly understand what is happening in the investigation. Every time the group thinks they have caught the Chameleon, he slips away again. If I thought I figured out who is the Chameleon, I was completely wrong. The resolution of the book is so surprising that I as a reader am amazed. The pace is high, and I devour the pages. Jonas Moström succeeds to keep the tension alive in all his books. […] I have read all his books, and I believe this is his best book so far."
Vängåvan Bookshop / SWE