THE SHOOTER (SKYTTEN)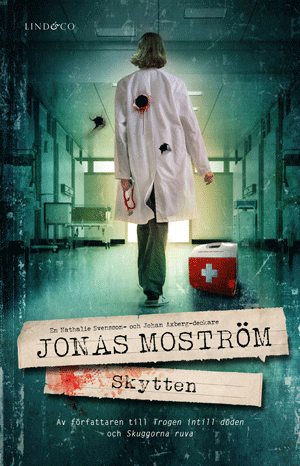 After a restaurant visit on a gloomy evening in Uppsala, psychiatrists Nathalie Svensson and inspector Johan Axberg swing by the hospital, where Nathalie's mother is admitted. Right outside the entrance, they witness how transplant surgeon Isabella Falk is cold-bloodedly shot to death by a person with a balaclava covering the face.
For a split second, Johan meets the masked shooter's hateful gaze and while Nathalie tries to save her colleague's life, Johan takes up the hunt on the shooter.
When it turns out that one of Nathalie's most dangerous patients has threatened Isabella Falk, Uppsala police ask both Nathalie and Johan for help with the case.
Is the motive for the murder to be found in Isabella Falk's private life or is it one of the city's criminal gangs that have taken out their revenge for a failed operation by Isabelle, where one of their leaders died? Or is there maybe a connection to the surgeon's many trips to Thailand?
The Shooter is the sixth standalone title in the series about psychiatrist Nathalie Svensson and inspector Johan Axberg.
Rights
Denmark: People's
Finland: Gummerus
Germany: Ullstein
Norway: Bonnier Norsk Forlag
Sweden: Lind & Co
REVIEWS
"One can tell that Jonas Moström is a doctor. His portrayal of the hospital environment is extremely believable and detailed, but above all he is a brilliant storyteller who credibly can make an unlikely story likely. Once again he has written a top novel."
Ölandsbladet / SWE