THE MIDNIGHT GIRLS (Midnattsflickor)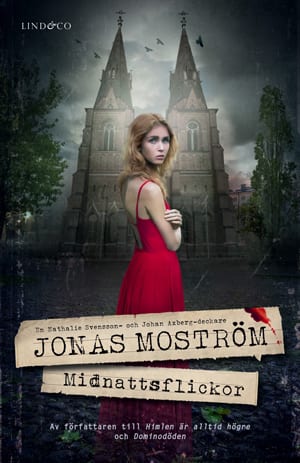 It is the Valborg spring break in the university town of Uppsala, and the students are in the mood to party. However, the festival atmosphere is shattered when two female students are raped in the space of a few days. Worse still, the police discover a third victim – this time strangled to death and dramatically positioned in one of the old university anatomy halls.
The town is on edge, and the police fear there are still more brutal attacks to come. Nathalie Svensson, the leading psychological profiler in Scandinavia and a member of the Swedish national profiling team, is called in to help with the investigation. She is joined by Inspector Johan Axberg, who travels down from Sundsvall in the Swedish north to assist. He and Nathalie have only recently finished another case together, but despite the macabre circumstances he is looking forward to seeing her again.
All the evidence points to there being one single attacker; all of the victims are students, all are the same age, and all are strikingly similar in appearance. The prime suspect is a convicted rapist, fresh out of prison and back in town. He has no alibi, but Nathalie's instincts tell her it can not be that simple. In the search for an alternative explanation, she finds herself on the tracks of a secret society with a deep dislike of women …
400 pages
AWARDS
Swedish Audio Award, Best suspense-of-the-year 2017
RIGHTS SOLD
Czech Republic: Albatros Media, XYZ
Denmark: People's
Estonia: Kirjastus Kunst
Finland: Gummerus
Germany: Ullstein
Iceland: Storyside
The Netherlands: Ambo Anthos
Norway: Bonnier Norsk Forlag
Poland: BookBeat
Sweden: Lind & Co
REVIEWS
"With a storyline that captivates the reader from the first page, a theme rooted in the present and a language as balanced as it has forward drive, the audio-book offers a breathtaking in a class of its own. In addition, the narrator has succeeded in creating a perfect balance between dramatization and relaxed story-telling and adds her personal touch, which brings the experience to another dimension."
Jury motivation for Best suspense-of-the-year 2017, Swedish Audio Award
"Moström has found two interesting characters with Nathalie Svensson and Johan Axberg, especially when they appear together. The chemistry between them is such that anything can happen."
Uppsala Nya Tidning / SWE
"His [Moström's] style is refreshing, unusual and special in normally quite similar genre."
Torkel Lindquist, BTJ / SWE
"Jonas Moström is a driven writer."
Länstidningen / SWE
"Thrilling and well-written."
Ölandsbladet / SWE