FATAL CROSSING
(PIGERNE FRA ENGLANDSBÅDEN)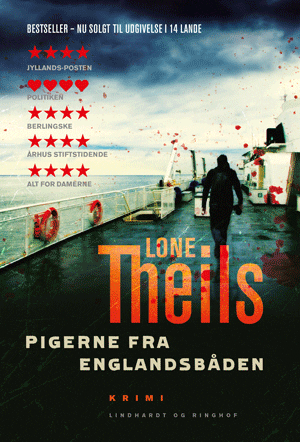 When a picture of two Danish girls who disappeared on a boat bound for England in 1985 emerges many years later in an old suitcase from a British second-hand dealer, the journalist Nora Sand's professional curiosity is immediately awakened.
But before she knows it, she is mixed up in the case of a serial killer who is serving a life sentence in a notorious prison Wolf Hall. The brutal murders committed by the serial killer bears trace back to Denmark. and the quest to discover the truth about the missing girls may be more dangerous that she had ever imagined. And the only way for Nora to get the vital information she needs is to visit the manipulative David Higgs in prison. An encounter that will make the reader think of the first meeting between Hannibal Lector and Agent Stirling.
Rights
Czech Republic: Euromedia
Denmark: Lindhardt og Ringhof
Estonia: Varrak
Finland: Aula & Co
France: SAGA
Germany: Rowohlt
Greece: Metaixmio
Iceland: Ugla útgáfa
Italy: SAGA
Japan: Hayakawa
The Netherlands: Ambo Anthos/SAGA
Norway: Cappelen Damm
Poland: SAGA
Portugal: Penguin Random House
Russia: Eksmo
Slovakia: Ikar
Spain: Edhasa/SAGA
Sweden: Norstedts
Turkey: Totem Basim
UK: Mac Lehose Press
Film rights
REinvent Packaging, Denmark & Shuuto, Norway
BLURBS
"A fast-paced and skilfully plotted thriller."
Barry Forshaw
"Fatal Crossing creeps up on you, and before you know it, you are hooked."
Stefan Anhem, author of The Ninth Grave.
REVIEWS
"Theils' success is teaming these bigger questions with a page-turning story. She brings a journalist's eye to the tale – the detail is precise, the social context across two nations is crisp. She also brings a writer's eye. And Nora Sand, the journalist with a penchant for kickboxing and defying her editor, is a character worth getting to know."
Sisters in Crime / UK
"Fatal Crossing's pace quickly takes hold as the plot gains complexity. An accomplished and exciting crime novel. With a second Nora Strand book published in Denmark I hope there will be more from Lone Theils to satisfy those readers who like to travel with their crime-reading as well as those readers who like to stay at home – be they Danish or British."
Euro Crime / UK
"This is an excellent start to what promises to be a very interesting series of mysteries."
Simon Petrie / UK
"From the very start you know this is a hole in one-read. Starting out a little quite soon enough you have cliffhangers that you really like. At the end, the book becomes incredibly thrilling and completely impossible to put down until it's over."
DAST Magazine / SWE
"Lone Theils has written an excellent debut of a karat that is rarely seen in the first attempt. Ingredients are a good plot, an exciting story and a fluent language."
Kristeligt Dagblad / DK
"A nice and unexplained female crime novel about a hero who you would like to meet again."
Berlingske Tiderne / DK
"Lone Theils has talent – and she is not afraid to use it. The current newspaper's London-based correspondent has committed a highly acclaimed and effective crime novel. Lone Theils is familiar with the genre's tools and writes with a sharp eye for the details."
Politiken / DK
"Lone Theils has written an impressive debute novel".
Alt for Damerne / DK