THE BLUE POET'S WIFE
(DEN BLÅ DIGTERS KONE)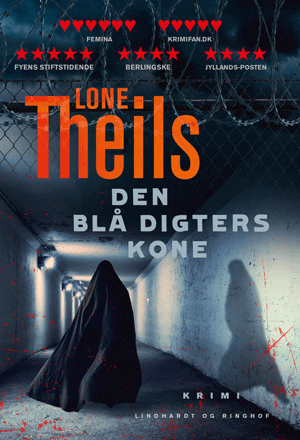 The famous poet Manash Ishmail was separated from his wife Amina during his escape from Iran to Denmark. She seems to have vanished into thin air and he asks Global's London correspondent Nora Sand for help.
The search for Amina sends Nora to hidden cities, where refugees hide in constant fear of the authorities. Nora becomes a danger to herself as she is thrown into a world where some lives matter less than others.
The Blue Poet's Wife is the second book in Lone Theils' series about Nora Sand, which began with Fatal Crossing.
304 pages
Rights
Czech Republic: Euromedia
Denmark: Lindhardt & Ringhof
Estonia: Varrak
Finland: Aula & Co
France: SAGA
Germany: Rowohlt
Greece: Metaixmio
Italy: SAGA
The Netherlands: Ambo Anthos/SAGA
Norway: Cappelen Damm
Poland: SAGA
Portugal: Penguin Random House
Slovakia: Ikar
Spain: Edhasa/SAGA
Sweden: Norstedts
Film rights
REinvent Packaging, Denmark & Shuuto, Norway
REVIEWS
"The Blue Poet's Wife is a crime novel that can definately be recommended."
Buchwelt / DE
"An exciting, dramatic story with just the cliffhangers that a good thriller must have to be stretch read."
Östra Småland Nyheter / SWE
"Theils has accomplished a contemporary crime novel that puts its finger on many important questions. It's a thrilling story and at the same time it contrasts the horrors with almost feelgood elements."
Crime Garden / SWE
"The Blue Poet's Wife writes itself nicely into the genre of Danish femi-crimes, and compares to both Elsebeth Egholm's "Dicte series" and Sara Blædel's series with Louise Rick. The book receives my warmest recommendation and can readily be read independently of the first book in the series."
Literatursiden / DK