THE PUSHOVER (TROSKYLDIGHEDEN SELV)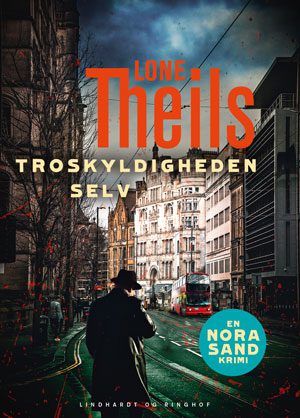 An English couple have taken up residence in a luxury summer house in Søndervig, but the stay ends tragically, when the wife is found drowned in the swimming pool. The question is whether it is an accident, as the man claims, or whether he has murdered her. The wife's rich family thinks the latter. It could also be someone else, some random stranger.
The matter shall be settled at a trial in Liverpool, where Sand will cover the case for Global, the magazine she writes for. A striking number of new life insurances signed on the wife shortly before her death point to the husband's guilt, but the court acquits him due to a lack of technical evidence.
Nora Sand clings to the case and thus moves into a sand labyrinth. And when more people die, she is suddenly herself the target of an unscrupulous killer who does everything to hide his own skin.
With Nora Sand, Lone Theils has found a main character who in a believable way is portrayed the way a journalist works – here the couple with a nose for, where there lies something criminal and lurking.
The Pushover is the sixth book in the popular series about the intense and risk taking Nora Sand.
288 pages
Rights
Denmark: Lindhardt & Ringhof
Finland: Storyside
Norway: Cappelen Damm
Sweden: Storyside
Film rights
REinvent Packaging, Denmark & Shuuto, Norway
REVIEWS
"Nora Sand fans have something great to look forward to. The Pushover I filled with suspense and the plot is good and complex. No risk of figuring things out too early."
Dagbladenes Bureau / DK
"It's a joy to read Lone Theils. You slide through her beautiful descriptions of nature, people or food. You get hungry from the delicious dishes she describes, and you want to visit the places she talks about, and actually want to spend real time with Nora, because she is such a fantastic person. Sometimes you might think that she is quite legitimately "lucky" with the things she finds out that the police have not discovered. This just proves that Nora is a fantastic journalist, she gets just that much further than others becauses she is asks the right questions."
Krummeskrummelurer / DK
"One is extremely entertained when in the company of Nora Sand/Lone Theils – I am already looking forward to the next book."
Bokfidusen / DK