DIE FOR OUR SINS (DÖ FÖR VÅRT SYNDIGA SLÄKTE)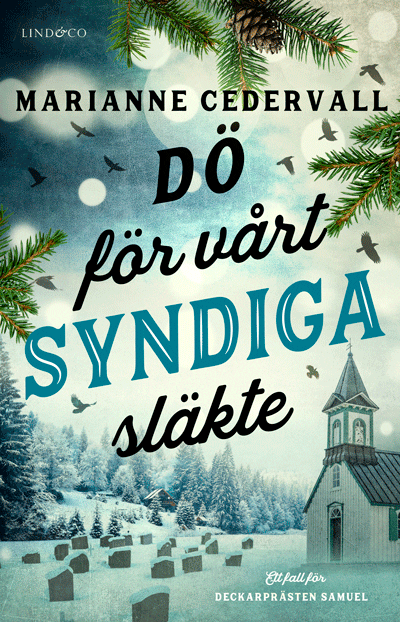 Priest Samuel Williams has a little reluctantly taken a temporary position in a sleepy village in Dalarna. There will be no peace and quiet at his new job though, because when Samuel arrives, he is met by a morbid sight:  A man has been crucified just outside of the church.
The victim is Finn Mats Hansson, hotel manager and member of the church board. Instead of the soft start with choir practice and coffee after mass that Samuel had pictured, he is thrown into the new and old conflicts of the parish. Some of them boiling under the surface, others now out in the open, given the murder of Hansson.
During the police investigation, Samuel's job is to cooperate with Criminal Inspector Maja-Sofia Rantatalo, who is also new to the village. Simultaneously he needs to maintain at least some of the usual Christmas activities in the church. The closer the investigation is to a solution, the closer the priest and the Criminal Inspector get to each other …
Die for Our Sins is the first book in a brand-new cozy crime series by Marianne Cedervall, featuring priest Samuel Williams in the small village Klockarvik.
Rights
Finland: Otava
Germany: DuMont
Sweden: Lind & Co
REVIEWS
"This is a kind of feelgood novel in a great mood with some giggles. But the book doesn't lack serious and earnest themes just because of that. The balance between joviality and sincerity is kept on a perfect level by Marianne Cedervall."
Nisse Scherman, DAST Magazine / SWE
"A wonderful crime novel, just like her previous books, written with humor and irony and warmth. The descriptions of nature are nice of the beautiful, wintry Dalarna. The wonderful characters. I immediately liked Priest Samuel and detective Maja-Sofia. I want to follow them more closely and already can't wait for book two of the series."
Vängåvans Bok & Papper / SWE
"exactly the right balance between feelgood and crime, and that is when Cedervall is at her best, yes, that is when she is outstanding. Perhaps the best author in Sweden at this hybrid genre? […] Just the right amount of feelgood, just the right amount of crime. Very entertaining."
Deckarlogg, blog / SWE
"Thrilling, entertaining, and well-written!"
Jennies boklista, blog / SWE
"Well worth a read."
Bokprataren, blog / SWE