CHILD OF THE SHADOWS (Skymningens barfotabarn)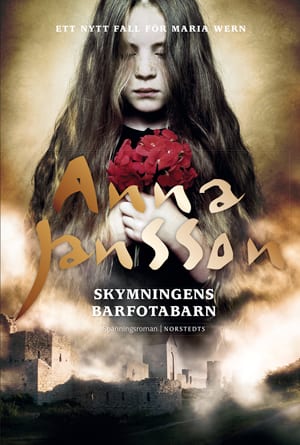 Heinz Meyer is found shot in Ronehamn. Who wants to murder a 90 year old man? And why?
Heinz Meyer was one of the German soldiers who came to Gotland after World War II. He was one of many men who got wounded in battles in the Baltic States. At the same time as he arrived to Gotland, 500 concentration camp prisoners came to the island. They were all sent there to get medical care at Lärbro war hospital. These men looked like soldiers from a ghost army, all were emaciated, severely mentally and physically wounded former prisoners. Now they were placed in the same hospital as the German soldiers! The Nurses had strict orders not to talk to patients about the concentration camps and they had no idea what these men had been through.
It becomes Maria Wern's case – to investigate the murder of Heinz Meyer. Many things are competing for Maria's attention. Her own wedding preparations are in progress and on the same time her children are off to a summer camp which will lead them all into big trouble. There's this little girl, Mirela, who looks like a child that's being very badly taken care off. What has the girl been through?
Anna Jansson's new crime novel is about the vulnerability of children and how the past casts its dark shadows over the inhabitants of Gotland
304 pages
Rights
Denmark: People's
Finland: Gummerus
Germany: BookBeat
Italy: StorySide
Norway: Cappelen Damm
Poland: BookBeat
Spain: StorySide
Sweden: Norstedts
UK/US: StorySide (WER)
Film Rights
Warner Brothers Nordic, Sweden
REVIEWS
"A story well told, especially about the children who lie about their world without complications. Everything can't be told to grownups, everyone knows that."
Dagens Nyheter / SWE