The Ship Mystery (Skeppets gåta)
Anna Jansson
Illustrations by Mimmi Tollerup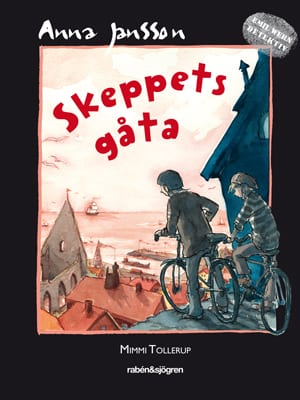 In The Ship Mystery the mighty East Indian ship comes to Visby harbor. The city orchestra – led by the trumpet player Louise Armstrong – is standing at the dock to greet the crew and its proud captain welcome. On board is also Ubbe's father, Tommy, who decided to surprise his wife and children and come home for a few days visit.
But the surprise doesn't turn out as he had imagined, and in the evening, when the governor is throwing a party dinner, Captain Morgan suddenly disappeares without a trace. Who saw him last? Why does Styrbjörn Sjöbjörn look so tricky? And what is that scraping sound heard from inside the ship's hull?
One thing is for sure: Private Investigator Emil Wern is facing his most tricky case ever.
87 pages
Rights
Finland: Gummerus
Norway: Cappelen Damm
Sweden: Rabén & Sjögren