THE WORST THIEF (VÄRSTA TJUVEN)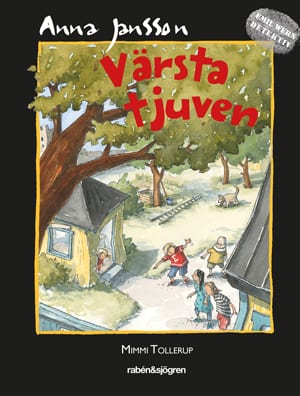 Emil Wern lives in Visby. In his yard there is an old yellow market kiosk where he has his detective bureau. Visby really needs a detective bureau, because it is full of suspicious people. Together with three classmates, his little sister Linda and the dog Molly, Emil solves some really tricky mysteries. Sometimes Emil's mother, the police inspector Maria Wern, also has to step in.
It's summer break and an unusually cheeky thief has started ravaging the town. Valuable things disappear, one by one. First it's Linda's money from the tooth fairy, then Ubbe's nice watch and finally Sokrates' mother's beautiful medallion. And everything disappears during the night!
The detective team immediately begins its operation and writes a list of suspects. It turns out that there are many people up nighttime in Visby. Could the villain be their neighbor Edla, who is always up because she cannot sleep? Or Aunt Hulda who walks her cat at night? Maybe it's the grumpy man who delivers pizza? Even a policeman is on the list of suspects – Emil's mother's colleague Per is a bird watcher and is also up at night. Could it be him?
It is a real challenge for Emil and his team to solve the mystery. Luckily, they are such professionals!
84 pages
Rights
Sweden: Rabén & Sjögren