THE SHADOW BEHIND YOU (SKUGGAN BAKOM DIG)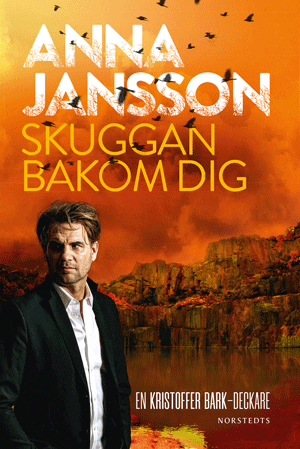 Detective Inspector Kristoffer Bark and his group of misfit colleagues have been assigned a cold case. A recently widowed primary school teacher and mother, Emelie Kartman, went missing ten years ago. Three years later she was found at the bottom of the lake in the old quarry at Lanna, in a barrel spiked with hundreds of three-inch nails.
Kristoffer Bark soon discovers that the prior investigation was deeply flawed. Previous investigators didn't look into the threats Emelie Kartman received before her death. When Bark makes contact with his colleague Sara Bredow, who is on sick leave, he realizes that she has been the subject of similar harassment. Is the killer still out there, in search of a new victim?
The Shadow Behind You is the second book in Anna Jansson's new Kristoffer Bark series. It's a story about power and manipulation, fear and inadequacy. A frightening depiction of how a perfectly functioning life can be torn into pieces.
Anna Jansson celebrated her twentieth anniversary as an author in 2020. Over four million copies of her novels about Detective Inspector Maria Wern have been sold and they have been translated into seventeen languages. In 2019, Anna Jansson launched a new crime series with the first book about Kristoffer Bark Daughter Missing.
399 pages
Rights
Denmark: People's Press
Estonia: Eesti Raamat
Finland: Gummerus
Germany: Blanvalet
Hungary: Animus
Latvia: Latvijas Mediji
Norway: Bonnier Norsk Forlag
Sweden: Norstedts
REVIEWS
"An effectively told and exciting serial killer thriller. "
BTJ / SWE
"It will be a dramatic and exciting murder hunt that of course ends in typical Anna Jansson manner. A chase where every second is crucial and where the victims are trapped."
Nisse Scherman, DAST Magazin / SWE
"The book is well written and exciting. It kicks off immediately and then increases in strength. A page turner that gives med goosebumps. And delivers suspense, smart intrigue and psychological twists."
Bokprataren.se / SWE
"This is one of my hottest reading tips this fall."
Mysterierna.se / SWE
"[…] I find myself as enthusiastic about Kristoffer Bark as I am about the Maria Wern-series. Is it just me or has Anna Jansson gotten to know Kristoffer Bark even better? […] Anna Jansson creates multiple clever developments alongside the main detective story."
DN / SWE