DAUGHTER MISSING (DOTTER SAKNAD)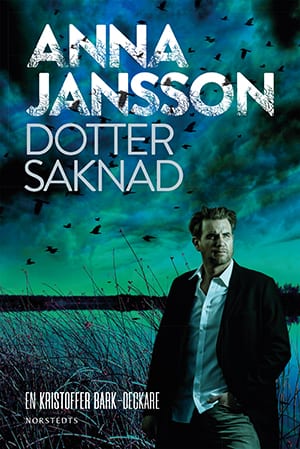 Five years ago, twenty-year-old Vera Bark ran away from her bachelorette party in a small village outside Örebro. Since then her father, Detective Inspector Kristoffer Bark, walks along Hjälmaren Lake mile after mile, in search of his daughter. Vera is assumed to have drowned, but the uncertainty disturbs him. Vera's mother, and Kristoffers former wife, is about to fall into despair.
Three years after Vera's disappearance, a young nurse goes missing from the same place. The investigation leads nowhere and is closed, but Kristoffer Bark re-opens it as a cold case. The missing woman resembles his daughter. Soon Bark realizes that there are more connections than he first imagined.
Daughter Missing is the first book in Anna Jansson's Kristoffer Bark series. It's a story of a parent's worst nightmare. It's also a story about what can happen to a neglected child when reality has become unbearable, and about delusions with deadly consequences.
375 pages
RIGHTS
Denmark: People's
Estonia: Eesti Raamat
Finland: Gummerus
Germany: Blanvalet
Hungary: Animus
Latvia: Latvijas Mediji
Norway: Bonnier Norsk Forlag
Sweden: Norstedts
REVIEWS
"Great Swedish crime!"
Laura / DE
"Exciting to the last page!"
OK! / DE
"The dialogues sparkle and I´m already looking forward to more temper tantrums by the afflicted police hero."
M-Magasin / SWE
"Daughter Missing is an efficiently told Swedish police thriller with a mix of everyday humor, creeping excitement and relationship drama. […] Anna Jansson manages to keep the excitement alive to the end by presenting several potential perpetrators and it there is a "Rosemary's baby-feeling" before the surprising resolution develops."
BTJ /SWE
"Towards the end, the mystery–detective story starts to have elements of a psychological thriller. Jansson builds her plot with a professional touch and deceives the reader to suspect different characters."
Helsingin Sanomat / FI
"Friends of Jansson's books will surely not be disappointed, as [Daughter Missing] elegantly takes its place at the top of crime literature with its description, plot, humor and characters… Jansson's novel is a mix of traditional police procedural and psychological thriller. With [her] steady expertise, plot and themes hold up well."
Ylä-Kainuu / FI
"Anna Jansson, who excels in her character descriptions, continues in her newest crime novel Daughter Missing in the same vein known from her earlier works – describing the world and human psyche. So her (sizeable) readership that likes her not-too-speedy style will have no reason to worry, even though it isn't Maria Wern solving crime this time."
Kansan Uutiset / FI
"a powerful and unexpected plot."
bokblogger.dk / DK
"Daughter Missing is a well-composed crime novel all way through."
Johannas Deckarhörna / SWE
"Suspenseful, engaging, and not at all predictable."
Bims bokblogg / SWE
"It's a thrilling, dark and sometimes even uncomfortable novel."
Zellys bokhylla / SWE
"Suspenseful, sad and with a really good flow."
Västmanländskans bokblogg / SWE
"Anna Jansson is a professional when it comes to building intrigues and characters. She quickly and efficiently sews together her gallery, her background, her story."
BYKW blog / SWE
"It's very thrilling and from time to time really frightening."
Mias bokhylla / SWE
"A well written, dark and exciting thriller. This is a series I will continue to follow!"
Boklysten/ SWE
"Anna Jansson builds up a story that is unpredictable and with an ending I did not see coming. I suspected the wrong person throughout the book and so in hindsight I can see the clues she skillfully placed out. Daughter Missing is a good story, where the setting, the mood and the action are its strength."
Olivias deckarhylla / SWE
"Brilliant, exciting & well written!"
Jennies boklista / SWE