SWIFT WINGS OF DEATH (DÖDENS SNABBA VINGAR)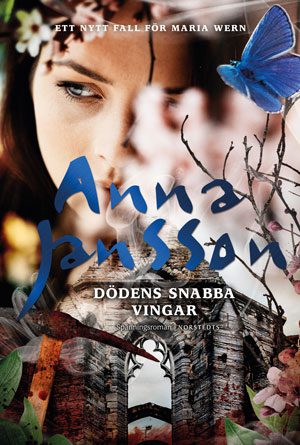 Two children search the tunnels under Visby and find the hall of the dead, a stone cave in the underworld, which, according to rumors, was a secret meeting place for the monks of the monastery and later used by baby farmers. 
Thirty-five years later, a broker makes a horrific discovery. At a house showing, a woman is found dead, sitting in a car in the garage. She is identified as the missing Märta Silverängen, a 34-year-old archaeologist who explored and mapped the tunnels under Visby.
Maria Wern leads the murder investigation and at the same time is secretly watched by an unknown person, a lost soul who knew everything about Märta Silverängen.
In Swift wings of death, Anna Jansson builds a nerve-wracking plot that takes us on a journey to Visby's underworld – literally. Power play, murders and cruel human fates unfold in a gripping murder story.
368 pages
Rights
Denmark: People's
Finland: Gummerus
Sweden: Norstedts
Film rights
Warner Bros Nordic, Sweden
REVIEWS
"Swift Wings of Death is a detective story that starts spectacularly and continues to keep the reader captivated with many twists and creeping insights. Anna Jansson's experience as an author means that the depiction of the murder investigation is pushed forward at a fast pace while the reader gets the backgrounds and lives of the police officers and the suspects. Everything is experienced and solidly written. Anna Jansson is one of Sweden's most read authors. She writes children's books and feelgood books but has been most successful with her many crime novels, including the series about Gotland and the police officer Maria Wern, which was published in over twenty years."
Rating: 4
BTJ / SWE
"Power play, murders, and terrible human destinies in a gripping story. A must read for all fans of Maria Wern."
Svensk Damtidning / SWE