BAD DREAMS (ONDA DRÖMMAR)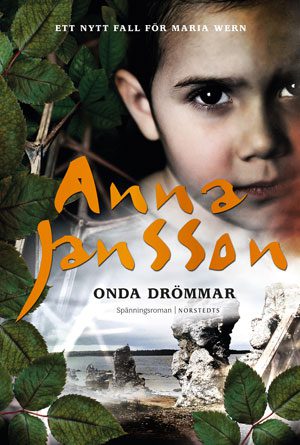 Child psychologist Amelie Muscat has fallen head over heels in love with Laura. They move in together without really knowing each other. One evening when Amelie looks after Laura's three-year-old son, she makes a fatal mistake. And the boy disappears.
Maria Wern has lost her husband and is dealing with grief by burying herself in work. She takes on a case of a boy who has disappeared on the northern part of Gotland Island, in the middle of a snowstorm. It escalates into a series of shocking events where Maria Wern must find out how everything is connected, in the midst of her own private tragedy.
With Bad Dreams, it's time to get ready for a new, thrilling reading experience from Anna Jansson. It is a story of betrayal and murder and of wanting to protect your loved ones, even if it means breaking the law and stop at nothing.
391 pages
Rights
Denmark: People's
Finland: Gummerus
Sweden: Norstedts
Film rights
Warner Brothers Nordic, Sweden
Reviews
"This is a dark story and Maria Wern is mourning after losing her husband. And Anna Jansson knows how to engage the readers, as always."
Aftonbladet / SWE
"I'm just amazed at how skillfully Anna Jansson's conveyor belt produces yet another complex crime drama with human fates that touch."
Arbetarbladet, SWE
"Interesting characters who give the reader insight to issues in society […] the suspense is kept to the very end, not least because of the perpetrator's complex psychology. Raiting: 4 of 5."
BTJ / SWE
"Anna Jansson is a very experienced writer who in a fast and efficient prose drives the action forward in short, easy-to-read chapters. In this new novel, she addresses difficult ethical issues and highlights current societal problems, but she also writes about everyday conflicts that seem impossible to resolve. The author weaves the intrigue together and the Gotland milieu is lovingly described."
Hela Gotland/SWE
"This is Anna Jansson's twenty-third Gotland crime novel, and even though there have been occasional setbacks, it is impressive to maintain such a high and even level for so long. And in this book, which is darker than ever, it gets really scary."
Smålandsposten/SWE
"Anna Jansson is skilled at weaving current issues into her crime novels and this one is very much about school, inclusion or exclusion and the students with functional variations that everyone who works at the school encounters daily. Behind a student who may seem difficult to understand is a child, that is one of the important reflections based on this novel."
Ochdagarnagar.blog/SWE