PARTNERS OUT OF STEP
(KÄRLEKSDANS I OBALANS)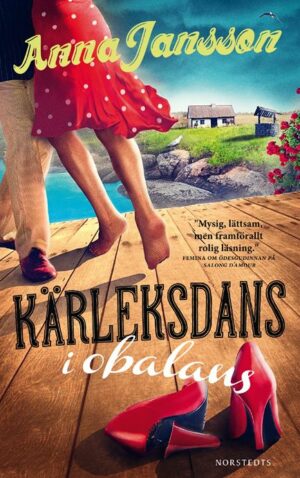 I look at the man I love. We are on the verge of a disaster. It looks like he is smiling in his sleep and suddenly I feel like killing him with the pillow. The words are Angelika Lagermark's, hairdresser at Salon d'Amour in Visby.
An ad in the newspaper is the starting point of a series of unexpected events. The cabin by the sea where Angelica's great grand mother Amalia lived her entire 94-year-old life is for sale. Amalia was a wise woman and many were the ones who came to her for advice and help in the hardness of life. But the mansion hold a dark secret.
At the same time, the secret match making work at the hair salon continues and Angelika is successful at helping customers find love. That is simple. The difficult thing is to keep love when the hardship comes. It's something Angelika herself will experience when Magnus falls in love with the whole world and does the unthinkable.
Partners Out of Step is a book about the art of being able to love not only when the sun shines but also when the going gets rough. And it's a heartwarming story about the rollercoaster of living with someone who loses the grip of reality. As always in the books about the charming hairdresser Angelika, at the end of the book the reader will find recipes of Angelikas delicious and wholesome cooking.
335 pages
Rights
Czech Republic: Omega/Knihy Dobrovský
Sweden: Norstedts
REVIEWS
"Suspenseful feel good. A perfect novel to end the summer with."
Norrköpings Tidningar / SWE
"It's easy-going and well-written entertainment, but there is also darker strings in the story this time. The relations are not just about playing around."
Ålandstidningen / FI
"Jansson deals with serious subjects in a sold way."
Tidningen Kulturen / SWE
"There is a touch of great seriousness in the book even if Angelika and her sisters make me laugh with their sharp lines."
Benitas Bokblogg / SWE