THE DEATH LIST (DÖDSLISTAN)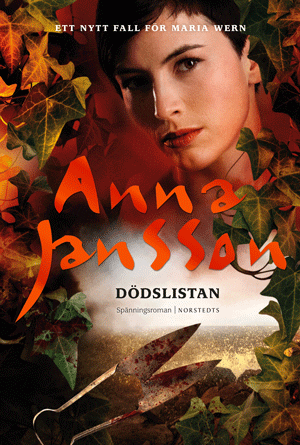 Twenty-year-old Agnes has been sexually abused from the age of twelve. She finally confides in a secret Facebook group called "The sheep shear scissors" created by a midwife to support rape victims on how to secure evidence and find the courage to report their abusers to the Police.
Meanwhile, suspected but not convicted rapists and sex offenders become victims of an anonymous murderer. The dead bodies are found naked with the name Erinya carved into their skin and a pair of sheep shear scissors are found next to them, used for mutilation.
Maria Wern's colleague Jarita needs to go through yet another trial, when the men who raped her appeal their verdicts. This time, one of the men is acquitted, but it would have been safer for him to stay in jail.
Maria and her colleagues receive reinforcements at the station with Ragnarsson from National Criminal Police from the mainland. But he makes the job difficult and Maria Wern begins to suspect that he is protecting someone, or that he himself may be involved.
The Death List is the new and thrilling addition to Anna Jansson's immensely popular series about Maria Wern, which celebrates its 20th anniversary in 2020.
347 pages
Rights
Denmark: People's
Finland: Gummerus
Germany: BookBeat
Italy: StorySide
Norway: Cappelen Damm
Poland: BookBeat
Spain: StorySide
Sweden: Norstedts
UK/US: StorySide (WER)
Film Rights
Warner Brothers Nordic, Sweden
REVIEWS
"The Maria Wern series celebrates twenty years, and Anna Jansson could be on the verge of losing her spark. But she doesn't, she just gets better and better as the years go by. She broadens the character depictions, where there's precise, entertaining caricatures, as well as loving descriptions of worn-out mothers and rootless children."
Dagens Nyheter / SWE
"I'm a big fan of Anna Jansson. Her ability to pinpoint and describe the everyday happenings and people, making it both entertaining and memorable, has always fascinated me. […] After twenty years in the business she knows good craftmanship. Thrilling and entertaining as always."
DAST Magazine, Nisse Scherman/Swedish Crime Writers' Academy
"As usual, Anna Jansson's language has a great flow to it and the thrill is built up in a professional way. I'm rarely disappointed with her, and definitely not when I read The Death List. […] This year Anna Jansson celebrates 20 years as a writer. With the page turner The Death List she is still on the top of her game. 5/5"
Litteraturmagazinet / SWE
"Not only is this an exciting thriller, it is also a discussion on the everyday exposure of women, and on the risk of initially law-abiding citizens taking the law into their own hands against sex offenders escaping justice. Thrilling! Well-written!"
Ölandsbladet / SWE
"The Death List could have become just another novel about women's right to revenge. But Jansson complicates and problematizes a lot more than that. She portrays women who don't understand or do understand but still can't understand what other women have gone through."
Blekinge Läns Tidning / SWE
"The Death List is a reader-friendly, fast-paced crime novel. […] Anna Jansson really manages to depict the ethical dilemma through her characters."
Lottens Bokblogg, blog / SWE
"Meeting Maria Wern again is like seeing an old friend, you've followed her through life, and through Anna Jansson's ability to tell a story she's become almost like a real, living person."
Och dagarna går, blog / SWE