WOMAN ON THE BENCH
(Kvinnan på bänken)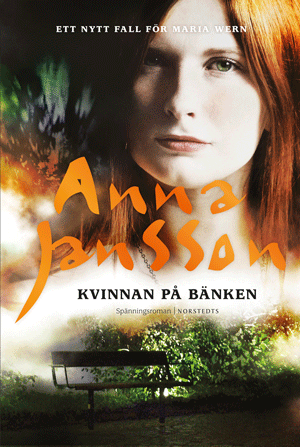 Dark secrets, ancient myths and mysteries from the past.
It's summer on the beautiful island of Gotland and the local police are occupied by a hectic tourist season, when Maria Wern is assigned the case of a young priest in Lärbro being threatened in gruesome ways.
Not everyone look kindly on the priest's unconventional practice of faith, and someone clearly wants to remind her about Taksteinarn, the priest murderer who haunts Lärbro according to the legend.
Meanwhile, social worker Julia Lindegård is found strangled to death in her bed, and all evidence point towards detective Jesper Ek. Maria Wern and her colleagues are torn between their loyalty towards a respected colleague and friend, and trying to see the facts clearly.
But Julia Lindegård's past haunts her even in death, and soon her dark secrets surface. And when the priest suddenly disappears without a trace, Maria Wern discovers connections between the priest and Julia. What was their relationship?
The mythical island of Gotland has an ancient history and is home to many legends, mysterious runes and even occult worship involving secret rites for the mother goddess, who carries snakes in her arms. This is the scene for the new eerie Maria Wern-novel by Anna Jansson.
306 pages
Rights

Denmark: People's
Estonia: Eesti Raamat
Finland: Gummerus
Germany: BookBeat
Italy: StorySide
Norway: Cappelen Damm
Poland: BookBeat
Spain: StorySide
Sweden: Norstedts
UK/US: StorySide (WER)
Film Rights
Warner Brothers Nordic, Sweden
BLURB
"Anna Jansson has a very unique style and an extraordinary gift. She will gently lead you into a world where anything and everything is possible. And you can't stop following. Anna combines mysticism, hallucinations with reality in a way that makes me think she must be related to Dostoyevsky."
Peter Stormare
REVIEWS
"The intrigue is built in an intelligent way.  Time after other I am sure I've figured out what's happening. But Anna Jansson fools me straight up on the stands, and not only once. Good, I like being fooled."
DAST magazine / SWE
"The author keeps me wondering for a long time. Then two different investigations unexpectedly interact with each other. And then, the mystery is solved. Very skilled tecnique to tell a story. It can't be done better than this."
Littearturmagazinet / SWE