WHAT YOU DO NOT KNOW (Det du inte vet)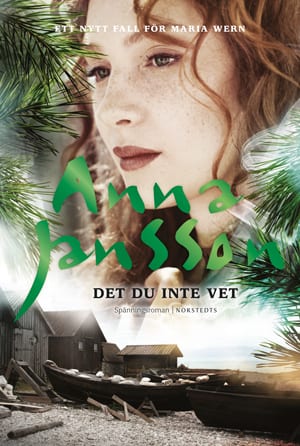 Late summer heat lingers on Gotland. Maria Wern is at a party at her new neighbours when an explosive fire breaks out in a house nearby. The act is associated with a series of break-ins in summer cottages in the surroundings.
The next morning Tomas Hartman's daughter Sofi disappears without a trace from the beach. Sofi was investigating the impact of oil drilling on the island on behalf of the Region Gotland. She disappears the day before her results was supposed to be presented. Both environmentalists and venture capitalists in the oil industry are eagerly awaiting her report. The demonstrations against oil drilling is ran by Rasmus Flöjel, Sofi's high school boyfriend. More and more people join in the protest.
Tomas Hartman is in for a desperate race against time to find his daughter. He knows how anxious and vulnerable she really is and how hard she is fighting her own demons.
Anna Jansson offers a burning topic, increasing excitement and a bit of romance in What You do not Know – the new crime novel about Maria Wern.
330 pages
Rights
Czech Republic: Motto
Denmark: People's
Estonia: Eesti Raamat
Finland: Gummerus
Germany: BookBeat
Italy: StorySide
Norway: Cappelen Damm
Poland: BookBeat
Spain: StorySide
Sweden: Norstedts
UK/US: StorySide (WER)
Film Rights
Warner Brothers Nordic, Sweden
REVIEWS
"Lovely Gotland environments and a clever mystery with a touch of puzzle solving – Jansson's devoted readers will not be disappointed."
Ystads Allehanda / SWE
"It was a good flow in the story and it kept my interest all the time […] As always, I'm impressed by Anna Jansson's research and that each book have a new current theme that is connected with the mystery to be solved."
Lottens book blog / SWE
"What you do not know is suspenseful from the very first page and the excitement continues throughout the story. It's a smart built crime novel where many surprises are hidden in a carefully told way. To tie everything together is incredibly skilful."
Dagens Bok / SWE
"A great part of Sweden in the form of a detective story, and among the best Jansson wrote. […] Detective novel, crime mystery, social depiction and what is now called "domestic noir". Anna Jansson has succeed to unite all these elements in What You Do Not know."
Femina / SWE
"Anna Jansson is undeniably a great storyteller. It's a good flow all the way through in her new crime novel from Gotland […] It is skillfully handled that the police gets personally involved. Which also makes the reader more involved. I feel with Hartman who is desperately looking for his daughter. He can of course not stop himself from making his own investigation to speed up the work. […] What You Do Not know is definitely one of her best detective stories."
Rating: 5 of 5
Litteratur Magazinet, Anne-Charlotte Östman / SWE
"Anna Jansson really knows how to build thrilling everyday stories without speculative violence. Thanks for that! Skillfully written about how thin the line can be between perpetrators and heroes, between willing to save and willing for revenge."
TARA / SWE
"I often get back to the credibility in crime novels in my reviews. Sometimes the plot is so unlikely that it needs a really well-written story with very skilled descriptions of characters and environment to weigh up the implausible events, the unlikely motive and/or the killer. In What You Do Not know everything is tied together. It is both credible and well written. The main characters are not superheroes but ordinary people with ordinary problems, both in private and in their professional life. The descriptions gives me a clear picture of who they are without being too obvious. Each person has their own voice, their own way of acting and expression. It is also a perfect balance of true and false clues that make me suspect many people, and that keeps the excitement alive from the beginning to the end."
Just nu, just här, book blog / SWE