STRANGE BIRD (Främmande fågel)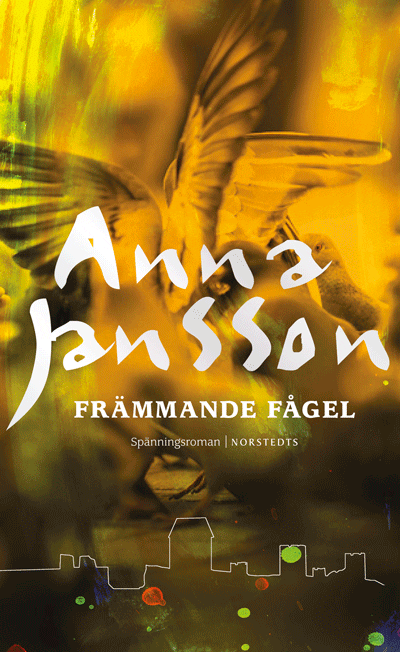 The bird flu pandemic has reached Gotland. The cook at a soccer camp suddenly falls ill. The children and their coach are kept in quarantine, and the police are responsible for ensuring that no one breaks through the cordoned-off area. When the parents realize that there is no effective medicine, panic is near.

The dilemma is, is it right to sacrifice the lives of a few in order to save the majority?
The borders of Gotland are closed to the world, and as the primitive fear of the infection increases, the hunt for scapegoats begins. Extremists and anti-immigrant groups gain ground.
Nurse Sandra Hägg makes a gruesome discovery at her workplace, a private health clinic. Together with a journalist friend she looks for evidence to prove her suspicions. The search for the truth costs her life. Detective Inspector Maria Wern is hunting for a man who sells pharmaceutical products for treating flu via an Internet site and who probably had contact with Sandra. At the same time Maria has to deal with her own anxiety when some of those closest to her come down with bird flu.
A frightening, topical novel that uses extensive expert knowledge to give us a true-to-life scenario dealing with that which we fear the most. Strange Bird is a story about fear, but also about its opposite, about love and reconciliation.
Strange Bird was nominated for best criminal novel of the year 2007. In the fall of 2008 the tv-film launched in Sweden's TV4. Eva röse plays Maria Wern and in the list of characters we also find Fares Fares, Allan Svensson, Mats Långbacka and Marie Rickardson.
288 pages
Rights
Denmark: People's
Estonia: Eesti Ramat
Finland: Gummerus
France: Editions du Toucan
Germany: BookBeat
Italy: StorySide
The Netherlands: De Geus / Lind & Co (Audio)
Norway: Cappelen Damm
Poland: BookBeat
Russia: Azbooka-Atticus Publishing
Spain: StorySide
Sweden: Norstedts
UK/US: StorySide (WER)
Film rights
Warner Brothers Nordic (Eyeworks), Sweden
REVIEWS
"Jansson is a welcome addition to the Swedish mystery writers now available in English. The author's knowledge of the medical field is evident in her detailed, fast-paced plot and the moral and ethical decisions facing the characters. Recommended for readers of Scandinavian mysteries."
Library Journal
"The ending of this suspenseful blend of scientific thriller and whodunit packs a real wallop."
Publishers Weekly
"It is well written, well thought out and unpleasantly believable. One of my favorite Swedish crime novels."
Dagens Nyheter / SWE
Maria Wern is so much more than a regular polis inspector. The read thread throughout the investigation, allows the reader to gradually dig through the psychological mysteries and get to know this "Jules Maigret"-female. Quite thrilling.
Le Nouvel Observateur / FR
"Anna Jansson presents an insightful and frightening version, a suspense novel of the highest quality."
Nerikes Allehanda / SWE
"I can't deny that cold shivers run down my spine after reading just a few pages …"
Göteborgstidningen / SWE
"I usually like her straightforward yet compassionate characterizations, as well as her occasionally somewhat sardonic humor. This year, that's all there, combined with a plot that takes your breath away. She is really good!"
Sydsvenska Dagbladet / SWE
"Suggestive and very exciting."
TARA / SWE
"But Anna Jansson doesn't just use suspense to keep her reader's attention. Strange Bird is a novel that touches you."
Helagotland.se Gotlands Allehanda / SWE
"Strange Bird is a very, very exciting and dramatic story."
Hallands Nyheter / SWE
"Strange Bird is exciting as a crime story, and it proves that the genre also lends itself very well to serious ethical reflection."
Svenska Dagbladet / SWE
"Exciting, frightening and as always, well written."
Gotlandska.se / SWE
"…a Swedish thriller of international class."
Hallands Nyheter / SWE