The Knights' Jousting (Riddarnas kamp)
Anna Jansson
Illustrations by Mimmi Tollerup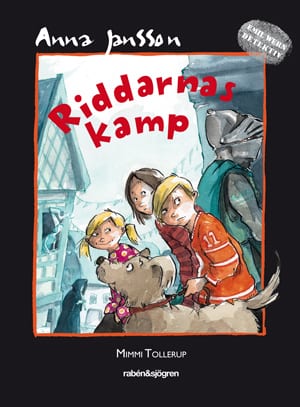 Anna Jansson presents the Emil Wern series (in Swedish)
Emil Wern lives in Visby. In his yard there is an old yellow market stand where he has his detective bureau. And Visby really needs a detective bureau, because it is full of suspicious people. Together with his little sister Linda and the pretty stupid dog Molly, Emil solves some really tricky mysteries.
Medieval Week has just started. A summer week filled with medieval tournaments and markets where everybody on the island of Gotland pretends it is the Middle Ages. On the streets of Visby one can see people dressed like monks, fortune tellers, knights, dirty beggars and beautiful maids with cone hats and long cloaks.
Emil and his best friend Ubbe buy tickets to the Battle of the Knights, to see the knights Spades, Clubs, Hearts and Diamonds battle against each other. But every time the knights are about to start something happens and the battle has to be put on hold.
Who is sabotaging the Battle of the Knights on purpose? For detective Emil Wern there is only one thing to do – find the perpetrator!
89 pages
Rights
Finland: Gummerus
Norway: Cappelen Damm
Poland: Publicat
Sweden: Rabén & Sjögren
REVIEWS
"Expressions like "The sea was bluish grey and the waves calm and sleepy", makes these books more linguistically sophisticated than others, excessively poor, children's detective stories. /…/ Emil Wern has come to the party of children's detective stories to stay."
Dagens Nyheter / SWE
"The Knights' Jousting is a highly recommendet book!"
BTJ / SWE
"Exciting, pleasant and easy to read."
Östgöta Correspondenten / SWE