The Watchmen of Gallows Hill (Galgbergets väktare)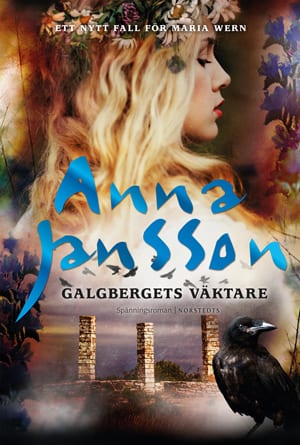 Maria Wern has suffered an enormous personal tragedy. Her husband Björn is paralyzed from the neck down and unable to speak. Maria cares for him in their home, but when a young man is found dead in the water she is forced to hand over the responsibility of her husband to his personal assistants. Even though she trusts them, she feels like something isn't quite right.
On Midsummer's night nineteen-year-old Elin Rute wakes up to discover her beloved Oliver murdered outside the summer house. Her parents convince her to do something that will haunt her for a long time.
The Gallows Hill in Visby is an old execution site. A group calling themselves The Watchmen of Gallows Hill sees it as their mission to point out traitors and sentence them to historical punishments. The executions are filmed by the leader, who seems unlikely to ever acquit an accused.
In The Watchmen of Gallows Hill Maria Wern is facing a killer with a mysterious motive, at the same time as her personal life is turned upside down by a catastrophe. In a classic Anna Jansson style, the thrilling murder mystery is woven together with fascinating and terrifying historical events.
368 pages
Rights
Denmark: People's
Finland: Gummerus
Germany: BookBeat
Italy: StorySide
Norway: Cappelen Damm
Poland: BookBeat
Spain: StorySide
Sweden: Norstedts
UK/US: StorySide (WER)
Film rights
Warner Brothers Nordic, Sweden
REVIEWS
"A contemporary crime novel that includes hacking and re-creation of mobile calls, but above all a depiction of the relationships of those involved and various shady deals. Anna Jansson always succeeds to create variety, thrill towards the end and an unexpected resolution."
Ölandsbladet / SWE
"Anna Jansson is a skilled and experienced writer who drives the plot forward with a fast and efficient prose in short, easy-to-read chapters in the new suspense novel The Watchmen of Gallows Hill. As many times before, the author connects the detective mystery with a dark and frightening past. In this her latest novel, she weaves in complicated ethical issues, sheds light on societal problems and tells about advanced computer technology, but she also writes about very ordinary, complicated everyday conflicts that seem impossible to resolve. […] the atmosphere is creepingly unpleasant, because she knows how to give us a fright, Anna Jansson."
Gotlands tidningar / SWE
"Anna Jansson has reached her twenty-second (!) crime novel in the series about Maria Wern (it started with The Speechless God in 2000). It is almost incomprehensible; she should be on the brink of falling into the routine zone and write tiresome repetitions. Instead, even more successfully than ever, she uses her suspenseful intrigues to shed light on both difficult ethical issues and contemporary technical possibilities. And of course, there is a large portion of quite ordinary hopelessly thorny feelings."
Dagens Nyheter / SWE
"Cozy environments are woven together with interesting characters and an exciting plot. Secret societies, Nordic mythology, as well as occasional history lessons, are elements that give depth and extra luster to the story. […] a thrilling crime drama that should satisfy both old and new fans."
BTJ/SWE
"Anna Jansson knows the art of composing a classic detective story. It is constructed as it should be. Something dramatic, like a murder, happens early in the plot. An investigation is started, and a set of suspects, who know the victim, are interrogated. Some of them are nasty, but that does not necessarily mean they are guilty. The tension is increased. I'm sitting on pins and needles. […] Anna Jansson has done it again. Rating: 5/5
LitteraturMagazinet / SWE